21/06/2002 - All of the abandoned small children, who were hospitalised at Pristina's Maternity Clinic, have now been taken in at the SOS Transit Homes located in the Kosovan capital. Thanks to the generous support of the Austrian states, the project can be extended to include two additional houses.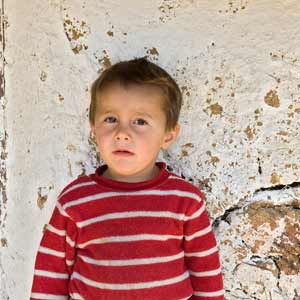 SOS Children's Villages is providing care for the small children aged three and under from throughout Kosovo, who were staying at Pristina Hospital, at the so-called CSMP (Centres for Short and Middle Term Placement). A total of 42 infants and small children are now receiving comprehensive and professional care at two locations. 26 orphaned children have already found adoptive parents in Kosovo since the centres started their work one and a half years ago. Every child spends an average of five months at the transit homes until their adoption.
When Kosovans who had fled to Albania gradually started to return home in 1999, the catastrophic social conditions in Kosovo prompted SOS-Kinderdorf International to take action. Following intense negotiations with UNMIK, the UN administrative authority in Kosovo, and the local decision-makers, a contract was signed in 2000 to establish an SOS Social Centre with a kindergarten for 125 pre-school children, a transit home for orphaned children and a public playground.
24 babies can be accommodated at the two houses which were provisionally rented in Pristina until the completion of the transit homes in the Velania district. In May of this year, all of the children staying in temporary accommodation were able to move into SOS Transit Home "Velania", which includes two family houses with room for twelve children each.
Because of the high number of small children without parental care, SOS-Kinderdorf International decided to establish two more houses to provide accommodation for an additional 48 children. Consequently, the children who have been "put to one side" and are only given emergency care in Pristina's hospitals can be cared for at the SOS Transit Homes. In the long-term, the transit homes are expected to become an SOS Children's Village.
At the request of UNMIK and the national authorities, the temporary facilities located in the town centre will continue to operate until these two houses are complete, probably until the end of the year.
The Austrian state governors unanimously agreed to finance the construction of the two additional houses with just under 1 million Euro at a meeting held on 12 June. At the transit homes, the infants aged up to three are cared for in a family-like environment. Speech development, psychological therapies, games and outdoor activities are provided. After adoption, the co-workers remain in contact with the children and their adoptive parents, to accompany the children's development.