SOS relies on the kindness and generosity of Canadians to be able to provide a home for the most vulnerable children around the world.
By becoming a child sponsor you are helping an individual child in need.
(You will receive a Canadian charitable tax receipt)
SOS Children's Villages in Córdoba
Córdoba, the central Argentine provincial capital is situated about 710 kilometres west of Buenos Aires, and has about 1.2 million inhabitants. Its location in the geographical heart of Argentina makes the city an important transport hub, and means that it is economically significant. The land surrounding Córdoba was predominantly used for cattle breeding and the construction of a dam now means that it is an important producer of grain, fruit and wine.
The SOS Children's Village is about 10 kilometres outside Córdoba on 35,000 m² of land. Construction work on the SOS Children's Village commenced in April 1998 and the first children were able to move into the completed family houses in January 2000. The official opening of the SOS Children's Village Córdoba took place in March 2002, in the presence of SOS-Kinderdorf International's President Helmut Kutin and several guests of honour. The SOS Children's Village consists of a total of 10 family houses, which are able to provide up to 90 children with a new home.
Media
Image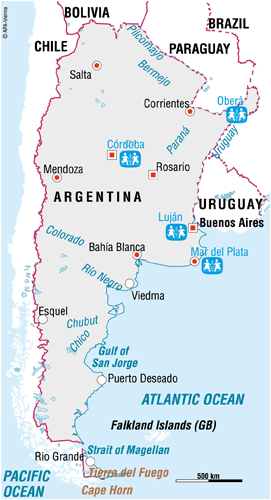 The infrastructure of the SOS Children's Village also includes the village director's house, an administration building with offices, a house for the SOS aunts (SOS Children's Village mothers in training, who assist current SOS mothers in everyday work, and substitute them in case of illness or holidays), a sports ground and a multi-purpose hall for special events such as celebrations and othersimilar activities.
SOS Children's Village children are educated at one of the several primary and secondary schools close to the SOS Children's Village. The town, which is near to Córdoba, has GP's surgeries, hospitals, extensive education opportunities and many different shopping and leisure facilities.
Our Impact
Image

The SOS Children's Village in Argentina provides loving homes to orphaned and abandoned children

1

VILLAGES

39

Orphaned and Abandoned Children

Image

The SOS Youth Facilities in Argentina provides youth with a loving environment where they learn to transition into independent living and to expand their education

1

YOUTH FACILITIES

16

Youths in our Care
Our Impact

VILLAGES
The SOS Children's Village in Argentina provides loving homes to orphaned and abandoned children
39
Orphaned and Abandoned Children

YOUTH FACILITIES
The SOS Youth Facilities in Argentina provides youth with a loving environment where they learn to transition into independent living and to expand their education