Our Annual Reports include details of our work that is being completed around the world, as well as a financial snapshot of our operations.
Year in Review 2015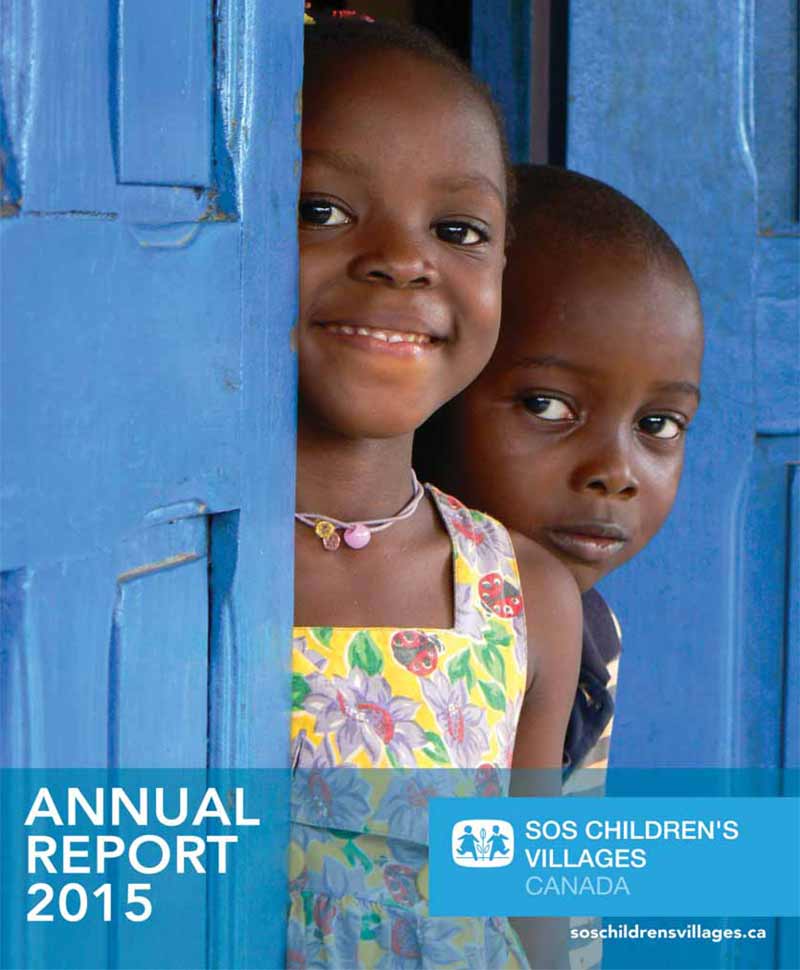 DOWNLOAD THE 2015 ANNUAL REPORT (PDF)
Connecting the dots with every child
Building a child isn't just abut education, or offering family-based care, or giving medical assistance, or providing social services… It's about all those things. SOS Children's Villages approach is holistic, offering assistance in all those areas.
Providing loving homes to orphaned and abandoned children
SOS Children's Villages is the world's largest family. In places like Namibia and Mexico, SOS children's Villages provide homes where children grow up from infancy to adulthood. SOS doesn't simply help children; we raise them.
Offering a mother and a family
In each of our 555 SOS Children's Villages, children are cared for by women who have dedicated their lives to be SOS mothers. In, Peru, one recently trained SOS mother begins her journey as an SOS mother in the Canadian-funded SOS Children's Village in Pachamac.
Providing quality education
Education isn't only about ABCs. Education is what makes informed citizens; it's what makes better leaders;' it's what makes better parents. In Haiti, SOS Community Centres provides basic literacy training to 3000 pre-school children who would otherwise have little or no access to education.
Keeping families together
The best way to prevent children being abandoned is to support families at risk so they don't break up. SOS' Family Strengthening Programs are helping families in Kouloun, Mali and helping families to grow food and ensuring kids don't drop out of school.
Offering Unique opportunities for youth
In 2014, SOS Children's Villages and Cirque du Soleil launched a unique pilot project for vulnerable youth in Mexico.
Past Annual Reports
Click on cover to download PDF
Latest Financial Statements