The war in Ukraine is disrupting the lives of millions of children and driving families apart. 
More than 6 million people have fled Ukraine since the conflict began on 24 February 2022, and more than 7.7 million have been displaced within the country. The displaced include 2.5 million children - tens of thousands of which have become separated from family and caregivers.
The disruption and collapse of essential civilian infrastructure has caused damage to water supply networks, waste management, transportation infrastructure, telecommunications, social services, healthcare, emergency services, education, electricity, the judicial system, and banking systems. 
The situation is particularly desperate for the 160,000 Ukrainian children who live in alternative care settings. They are exposed to the danger of ground battles and bombing, often without supportive adults by their side.
Image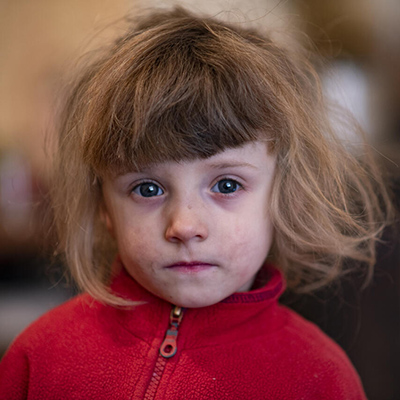 How SOS Children's Villages is responding
SOS Children's Villages is rapidly scaling up to respond to the needs of approximately 500,000 vulnerable children and families impacted by the conflict. Our holistic emergency response in Ukraine includes:
Image

Relocation assistance and safe shelter: In coordination with partners such as UNICEF, we support vulnerable families displaced by the conflict with cash assistance to covers costs associated with travel, safe housing, and associated costs.
 
Health and food assistance: Through the provision of cash assistance, we help conflict affected families access food, clean water, hygiene materials and essential medical supplies and services.
 
Trauma care and mental health support: We provide mental health and psychosocial support to children, parents, and frontline staff.
 
Protection from harm: Our emergency response team works alongside local governments and partners to keep children and families safe.
 
Family reunification: We coordinate with national governments and other humanitarian actors to identify, assist, and reunify children who have been separated from their families.

SOS Children's Villages has been responding to the humanitarian crisis in Ukraine since 2003, delivering essential assistance to vulnerable children and their families. We have been updating our emergency response since the conflict escalation in February 2022, particularly with respect to protection, shelter, nutrition, and mental health of affected children and families, and refugees.
We will continue our work in Ukraine as long as it takes - to save lives, reduce suffering, reunify and strengthen families, and maintain dignity among crisis-affected Ukrainians.
About SOS Children's Villages in the Ukraine
SOS Children's Villages began working in Ukraine in 2003, and in 2010 opened the first SOS Children's Village in Brovary, Kyiv region. The work in Luhansk region, eastern Ukraine, began in 2012, and was reorganised in 2014 to respond to the needs of children and families on both sides of the contact line. Programs of SOS Children's Villages in Ukraine include:
Family Strengthening: Since 2003 we have been supporting families who are at risk of breaking down. The help we provide varies depending on the needs of each family but can include counselling, social and material support. We also run workshops on topics relating to child protection and health.
Foster Family Care: Children without parental care find a loving home in one of the SOS families. The families have the legal status of "foster families" and receive all the support they need from SOS Children's Villages. We also provide short-term care for children in crisis situations. The children stay with us (usually less than six months) until they can return to their families or move to another form of family-based care.
Emergency Response: We support both families who are living in the conflict areas and those who have been internally displaced. We provide medical, educational, and social support. The need for psychotherapy has tri[1]pled since autumn 2015. In 2015, and despite the dangerous working conditions, we reached over 300 internally displaced children in the Kyiv region and over 160 in the Lugansk region.
Youth Program: We support young people to gain the necessary skills and develop their talents to help them find employment and become independent.
Advocacy: SOS Children's Villages works with the government and other agencies to promote social reform that improves the rights of children in the country.
Latest news by SOS on the Ukraine crisis
2023
2022