Director of SOS Children's Villages Sudan named UNESCO Artist for Peace
Wednesday, October 31, 2012
Image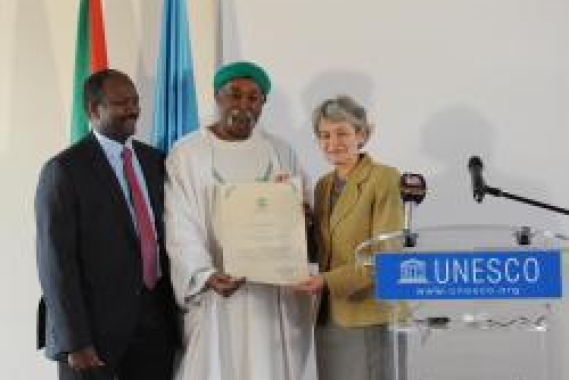 We are very proud to announce that Ali Mahdi, director of SOS Children's Villages Sudan, has been officially designated UNESCO Artist For Peace for a two-year period by Irina Bokova during an official ceremony held on 30 October in Paris.
Apart from his engagement with SOS Children's Villages, Mr Mahdi is a Sudanese actor, a theatre director and the International Theatre Institute's Vice-President. Ali Mahdi demonstrated that theatre, music and drama have an invaluable role to play in promoting dialogue and supporting peacekeeping processes.
Seeing theatre as a tool for conflict resolution and as a place for rebuilding and renewal, his work has shown that exposure to theatre, as well as to culture in general, is a powerful ally in reconstructing the dreams and restoring the confidence of children affected by tragic situations.
Ali Mahdi is also the happy recipient of the 2010 Freedom to Create main prize and 2010 UNESCO Arab Culture Prize winner for bringing drama performances to the front line and for the promotion of dialogue between Arabic culture and the cultures of the world.
For Ali Mahdi, "this award is special to me. It is a worldwide recognition of the work of arts, of my work with theatre as a peace building worker for the benefits of children and communities. I feel recharged and fully energized. I want it to bring greater focus on the needs of children in Sudan. I will use my new role of UNESCO Artist for Peace to encourage the rich Arab countries in supporting more the work with children and the work of SOS Children's Villages in the Middle East and Africa." Ali Mahdi was accompanied at the UNESCO official ceremony by SOS Children's Villages France in the person of Communication Director François-Xavier Deler.
"Theatre has the power to move, inspire, transform and educate in ways that no other art form can. Theatre reflects both the extraordinary diversity of cultures and our shared human condition, in all its vulnerability and strength", said Irina Bokova, Director General of UNESCO on the occasion of the 50th Anniversary of World Theatre Day on 23rd March 2012.
UNESCO Artists for Peace are Goodwill Ambassadors, internationally-renowned personalities from the arts, music, poesy or literature arenas, who use their influence, charisma and prestige to help promote UNESCO's message and programmes. Other UNESCO Artists for Peace include singers, dancers or architects like Marcel Khalife, Céline Dion, Joaquin Cortes, Titouan Lamazou, Manu Dimango, Zaha Hadid.