Volume 1: Protecting Children Through Crisis and Beyond
On March 21, 2019, SOS Children's Villages Canada hosted the first volume of the SOS Canada 50th Anniversary Speaker Series. Focusing on the theme of Protecting Children through Crisis and Beyond, this was an engaging event with a panel of SOS Children's Villages International Representatives. Guest panelists spoke of their first-hand experiences of child protection through the Venezuelan refugee crisis and in the aftermath of war in the Middle East. An informal reception followed, hosted by Borden Ladner Gervais LLP at their offices in the financial district of Toronto.
SPEAKERS INCLUDED:

Angela Maria Rosales Rodriguez
National Director, Aldeas Infantiles SOS Columbia
Luciana D'Abramo
SOS Children's Villages Director of Emergency Relief Programs for the Middle East and North Africa
Sofia Garcia Garcia
SOS Children's Villages Representative to the United Nations in New York
---
DATE AND TIME
Date: Thursday, March 21, 2019
Time: Registration begins at 5 PM; Formal program begins at 5:30 PM
LOCATION
Borden Ladner Gervais LLP Office
Bay Adelaide Centre, East Tower
22 Adelaide Street W
Toronto, ON
M5H 4E3
EVENT PHOTO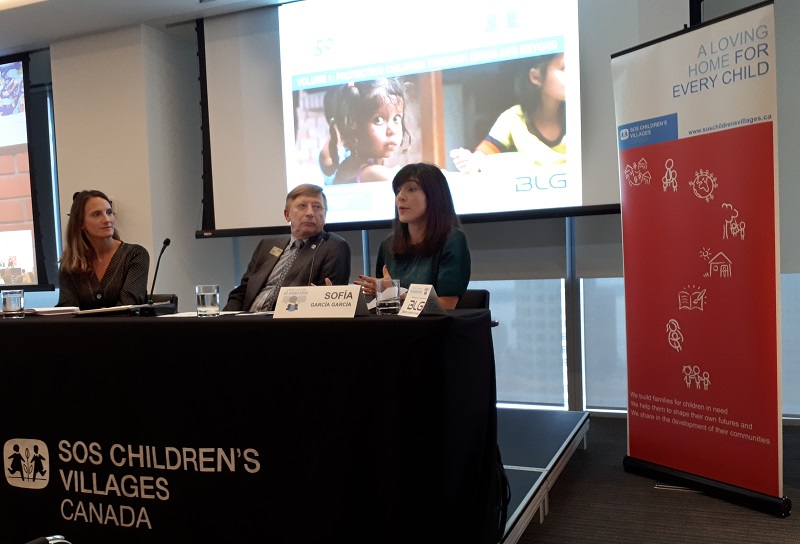 Luciana D'Abramo, Alfred Page, and Sofia Garcia Garcia
EVENT SPONSOR

FOR ADDITIONAL INFORMATION, PLEASE CONTACT:
Rebecca Leikin
Co-ordinator, Special Events
Tel: 1.800.767.5111 ext. 539
Email: [email protected]
---
If you are unable to attend, but wish to make a donation in support of SOS Children's Villages Canada, you may do so here. Your support will help transform the lives of the most vulnerable.