From Victim to Role Model: Story of a Tsunami Survivor
Friday, December 26, 2014
Image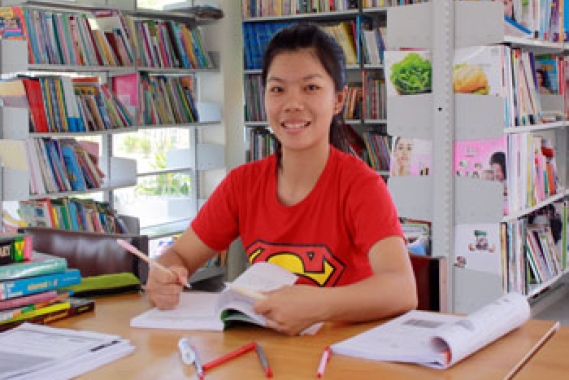 Chantira is a seventeen-year old girl living in SOS Children's Village Phuket, Thailand. The smile on her face does not remotely reflect the hard times she went through as a child when the Tsunami struck.
"No one knew that within a day everything would change so drastically. I can't forget that morning," remembers Chantira. "It was Sunday morning, my mom and I were busy doing household chores, when suddenly mama shouted loudly, 'Rush, we have to leave, it's an earthquake'. We hurriedly left our homes and ran to save our lives."
The huge waves swept her house in Krabi, a town on the west coast of southern Thailand leaving behind a trail of destruction. Chantira somehow survived but lost her family. "After losing my family, I was shattered. I had nobody and no place to live," she says with tears in her eyes. 
Chantira was one of the few who survived. She kept moving in makeshift arrangements till she found a loving home in SOS Children's Village Phuket, built in the aftermath of Tsunami.
"When Chantira came, she was shy and didn't talk much. She kept to herself, and spent most of her time in the bedroom. It was difficult to console a child who had lost everything to tsunami," explains her SOS Mother Kanya. She tried different ways with Chantira to help her overcome the trauma. "I started spending a lot of time with her. After school, I helped her with her home-work and played different games in the evening. Gradually, she began opening up and became friendly."
After ten years, she's a responsible young girl, studying in Grade twelve. She is quite fond of her school, and her favourite subjects are physics and chemistry. Chantira spends her free time supporting her younger SOS siblings with homework. She also helps her mother in kitchen.
"She is a role model. In my absence she's like the mother of the house and cares for her younger siblings," says mother Kanya proudly.
Chantira has dreams and looks forward to a bright future. "I want to be a doctor and help poor. It's difficult but with the support of SOS I know it's possible," she says confidently. The entire SOS family is cheering and motivating Chantira to reach her goal. 

Canadian's wishing to support SOS Children's Villages are encouraged to sponsor a child, sponsor a village or to make a direct donation. Your support ensures that SOS Children's Villages can continue to provide a safe and loving home to orphan and abandoned children worldwide.