SOS relies on the kindness and generosity of Canadians to be able to provide a home for the most vulnerable children around the world.
By becoming a child sponsor you are helping an individual child in need.
(You will receive a Canadian charitable tax receipt)
SOS Children's Villages in La Ceiba
The SOS Children's Village La Ceiba has been providing support to the children and youths of the region since the mid-1980s. SOS Children's Village La Ceiba is made up of 16 SOS families where up to 119 children can be taken care of. At the SOS Children's Village La Ceiba our organisation also offers medical treatment and educational support.
The children of La Ceiba and its suburbs whose families can no longer take care of them can find a loving home in one of the SOS families. Once the children reach a certain age, they are able to move to the SOS Youth Programme where they gradually prepare for an independent life with the help of our SOS counsellors. With the support of qualified youth workers, the young people develop realistic perspectives for their future, learn to shoulder responsibility and increasingly make their own decisions.
Media
Image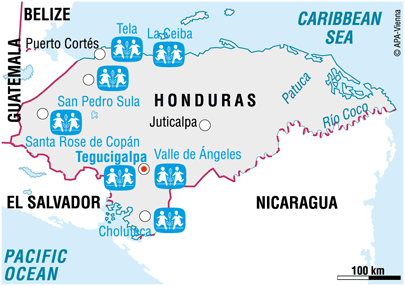 In a Caribbean paradise, child poverty continues to be a widespread phenomenon
La Ceiba is located on the Caribbean Coast of Honduras and is widely considered the third most important city of the country. In Honduras, children under the age of 15 represent nearly 40 per cent of the country's population. Despite its beautiful white-sand beaches, La Ceiba remains a city of contrast. 
Many of the children in La Ceiba live in unimaginably poor conditions. Malnutrition, poor infrastructure, high child mortality and brutal gang violence mark their every-day lives. A fairly large number of the 150,000 children who grow up without parental care in Honduras live in La Ceiba. 
Hoping to find work, these children often leave smaller towns in rural areas in order to lead a better life in the country's urban centres. Many of them end up in the informal sector where they resort to begging, selling merchandise or shining shoes. On the Caribbean Coast of Honduras, the lives of many children are severely marked by abuse and neglect due to the difficult socioeconomic situation they have been growing up in. As chronic poverty persists, child prostitution has been on the increase in Honduras, particularly in the country's north. 
Child labour also remains a widespread phenomenon in La Ceiba. Most of the working children are deprived of a decent education that would give them better opportunities to break the cycle of poverty. Located right on the Caribbean coastline, La Ceiba frequently faces natural disasters, in particular hurricanes and heavy rainfalls which cause flooding. Such events further aggravate the living conditions of La Ceiba's poorest segments of population.
Providing children and young people with long term support
The Honduran government has implemented a number of projects to help vulnerable children in the country but a great need for long-term alternative care remains. More than 150,000 children in Honduras grow up without parental support. The majority of these children have no other option but to live and work in the streets for survival. Their lives are marked by poor housing conditions, a lack of education and undernourishment. In order to protect and support the most vulnerable members of the Honduran society, SOS Children's Villages has intensified its efforts in Honduras.
Our Impact
Image

The SOS Children's Village in Honduras provides loving homes to orphaned and abandoned children

1

VILLAGES

101

Orphaned and Abandoned Children

Image

The SOS Youth Facilities in Honduras provides youth with a loving environment where they learn to transition into independent living and to expand their education

1

YOUTH FACILITIES

4

Youths in our Care
Our Impact

VILLAGES
The SOS Children's Village in Honduras provides loving homes to orphaned and abandoned children
101
Orphaned and Abandoned Children

YOUTH FACILITIES
The SOS Youth Facilities in Honduras provides youth with a loving environment where they learn to transition into independent living and to expand their education