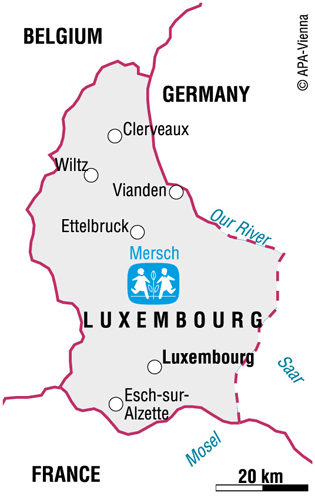 SOS Children's Villages has been present in Luxembourg since the mid 1960s, when it was set up to support children in need. Children who had lost parental care were able to move into their new homes with their SOS families in 1968. In recent decades, the work of SOS Children's Villages has adapted to the changing needs of children, young people and families in Luxembourg. At the moment there is one SOS Children's Village, one SOS Youth Facility, one kindergarten, one SOS Vocational Training Centre and three SOS Social Centres in Luxembourg.
SOS Children's Villages in Luxembourg
SOS Children's Villages runs a variety of programmes in Luxembourg. It provides day care while parents go to work or receive further training. The SOS Social Centres provide families with support in crisis situations, so that children can continue to live with their parents. When families are no longer able to care for their children, they can be looked after by the SOS families. Young people live in houses where they are guided on their path to an independent life with the help of professionals. They can also attend the SOS Vocational Training Centre, and thus increase their professional skills.
In 1974, the promoting association SOS-Interfonds A.S.B.L." (now "SOS Villages d'Enfants Monde asbl. Luxembourg") was formed in order to provide financial support to SOS Children's Villages worldwide.
15
Orphaned and Abandoned Children

Kindergarten students
8
Youth and adult students
Some facts about Luxembourg
The Grand Duchy of Luxembourg is a landlocked country in Western Europe. It is bound by Germany to the east, Belgium to the west and France to the south. Luxembourg is the smallest of the European Union member states: around half a million people live in Luxembourg, with the capital city, also called Luxembourg, being home to 90,000 inhabitants. There are three official languages: French, German and Luxembourgish. Nearly one third of the population originate from other countries of the European Union.
A very high standard of living and a prosperous economy
The people of Luxembourg enjoy an extremely high standard of living. The stable, high-income economy features solid growth, low inflation, and, on average, low unemployment. 
Traditionally, the country's economy was dependent on manufacturing of steel. Nowadays manufacturing accounts for around 17 per cent of employment, and has diversified to include chemicals, rubber and other products. At present, the service sector employs over 80 per cent of the population; most of these work in the banking sector since the country has become a major financial centre. Although the economy, affected by the international financial crisis, contracted in 2009, it rebounded by 3.2 per cent in 2010. The unemployment rate has risen in recent years, and now stands at six per cent. 
The population of Luxembourg has access to quality health care. The country has a high life expectancy - 76 years for men and 83 years for women. There is a very low infant and maternal mortality rate.
Situation of the children in Luxembourg
There are around 105,000 children under the age of 18 living in Luxembourg. Most of these children have benefitted from the high standard of living of the country.
However, according to the Programme for International Student Assessment in 2009, Luxembourg ranked below most other European Union countries and under the OECD average. The educational system was criticised for exacerbating social inequalities rather than lessening them. Children from immigrant background generally perform poorly in schools. The drop-out rate for some children, particularly those from Cape Verde, is higher than the national drop-out rate. Part of the problem is the fact that education is carried out in the three official languages and proficiency in all languages is required. 
The rights of children are protected by a national Ombudsman's Committee for the Rights of the Child, which consists of a multi-disciplinary team of experts. The Committee ensures that current legislation is complied with and makes suggestions for improvements to promote children's rights. 
In spite of the generally positive situation, around 11 per cent of children live in poverty (2008 est.). The more worrying fact is that the number of children living in poverty has increased in the last decade. Poverty mostly affects children who live in single-parent families where the head of the household is unemployed.