Devastating economic crisis in Sri Lanka hits vulnerable children and families the hardest
Sri Lanka is facing one of its worst economic crises in recent decades - alarming levels of inflation, weak government finances, and Covid-19 are wreaking havoc. Vulnerable children and families are hard hit, with food and fuel in short supply. In this interview, Divakar Ratnadurai, National Director of SOS Sri Lanka explains that SOS is providing rations and financial support to families but the crisis is worsening every day.   
What is the scale of the economic crisis in Sri Lanka?
This is by far the most devastating crisis Sri Lanka has faced since its independence in 1948. A shortage of foreign currency has meant that the country has been struggling to import and pay for essential commodities like fuel, food, and medicines. These challenges have led to cuts in electricity generation, with limited electricity during the day, and long queues outside fuel stations breaking into violence and even deaths. Food prices are skyrocketing and essential services like water, electricity, medical care, and newspapers have been hit.
What is the immediate impact on SOS programs?
Currently, we have interruptions in electricity supply and shortages of fuel and food items. Due to inflation, the cost of living is extremely high. Most of our budgets expenditure is out of the window for this quarter and things do not seem like they will change soon.
Image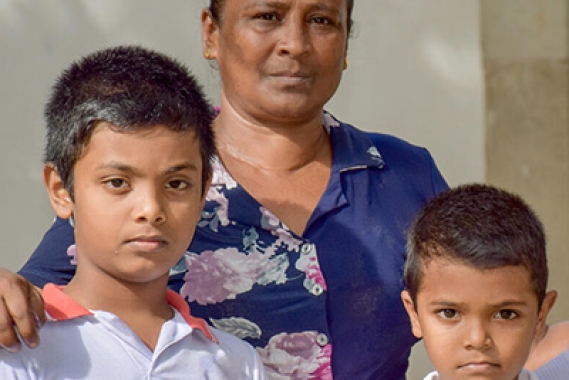 Which people are worst affected by the crisis?
People who are below the poverty line, such as those who are in our family strengthening programs, are worst affected. For them, affording food and medical care has become impossible.  However, there is hardly anyone not feeling the pinch and the fear since the crisis is worsening. Middle-income earning families are also affected. This has a direct effect on children of all economic classes.
How are children impacted by the crisis?
As families are affected by inflation, parents are anxious and stressed out, cutting out all non-essential activities and expenditures. While children may not understand the economics, they very much react to anxiety and fear, and the change in their family behavior and activities. Many children are unable to get to school, as there is often no fuel available. Bus fares have also increased considerably. Children are unable to study at home without electricity or signals for phones or internet, all of which are affected.
Image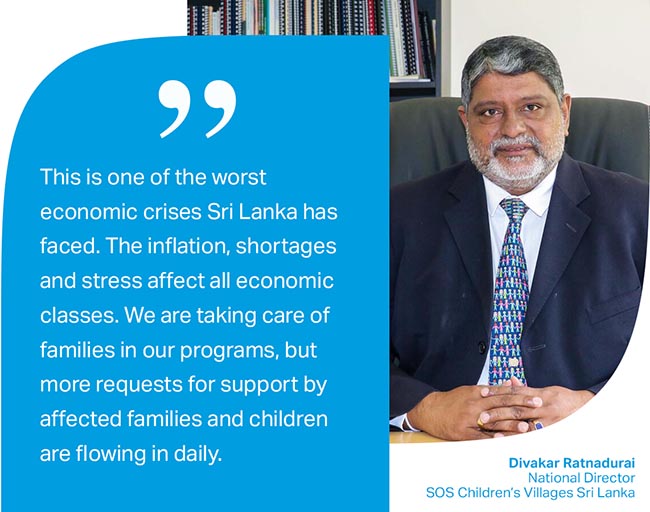 How are SOS staff and children coping?
SOS mothers, like all parents in Sri Lanka, are anxious, as they do not have a way of managing their budgets. Even getting rations everyday has become stressful as they have to wait in long queues and, many times, they return without getting food because of shortages. The previous system of getting rations for mothers has collapsed, as there has been a limit put on how much rations are given to one person. This also affects the morale of our caregivers as many of them have big families and have to take children to buy ration with them. They do not know yet if the situation is going to get better.
For staff, the power failures affect day-to-day work. The office cannot run on power generators, as there is a fuel shortage. We cannot attend to our day-to-day work, virtual meetings or respond to emails. The total number of hours of the power cuts is only increasing. For example, this week we will have 15-hour power cuts per day, while last week we had 13-hour power cuts. All local fundraising activities have also come to standstill because of this hopeless situation.
How are we reaching vulnerable communities?
Whenever we can, we are taking care of our families in the family strengthening programs and our care leavers. For those in our family strengthening programs, we are giving 20,000 Sri Lanka rupees (nearly US $70) for livelihood support. Moreover, we plan to give dry ration packs to all families by 7 April.
Care leavers receive dry rations and cash, as well. We offer re-skilling programs so that if they lose a job they can find another. However, we believe that we will have to support them more in the future depending on the depth of the crisis. More and more requests from families and children are flowing in asking for support.
What does the future hold for Sri Lanka?
Honestly, I do not know. I cannot predict what will happen in future and it does not seems to be getting any better. However, I along with my team are doing everything possible to make a difference in the lives of children and families. We need all the support we can get.