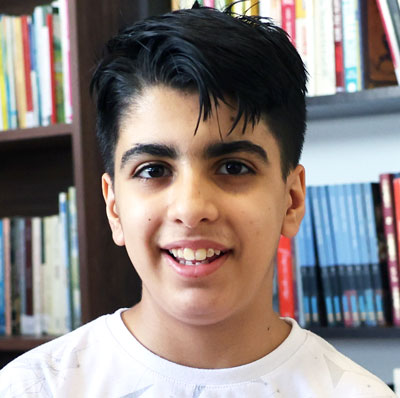 "My name is Ferhard, which means 'brave' in my language, and I am 12 years old. My home country is far away, in Iraq, where I used to live with my family.
"I do not know if I am actually brave, but I know that I have faced many challenges until now in my life. I lost my father when I was very young, so I was left with my mother. I was only nine when I arrived in Thessaloniki, in Greece, in 2018.
"We did not know anyone, and everything was so new and scary for us. I felt so lost and alone. Early in 2019, the organization that helped us informed us about an Educational Centre of SOS Children's Villages, where refugee children like me had educational support, learned new things, played, and made friends.  It was the first time that I joined classes, as I was too young to attend in my country. I was so excited and happy! It was a dream coming true!

"When I began visiting the SOS Centre, I only spoke some words in Greek, and I was ashamed. My teachers were very polite and helped me from the first day to learn more! I never missed a class and I even asked for classes during the weekend because I could not wait to see my friends again and test my knowledge! I have been going to the Centre for over two years now and cannot count how many friends I have made and how many things I have learned!
"When I think about my education so far, I believe that Greek is an easy language if you love it. I'm not very good at Math, but I really love to solve exercises in Greek, English, and German, and I really like computers and participating in art and crafts projects.
"The support I received from my teachers was not only for my grades. They supported me even when my mother had health issues and was very sad and alone, after my grandmother's death. I was the only one that had to take care of her while I was also attending school and my classes at the Centre. But we managed to survive!
"My biggest dream is to become a schoolteacher and help other children learn and believe in themselves! My role models are my educators in the SOS Educational Centre because they were the ones that believed in me, supported me, and helped me dream again!"
Ferhard and his mother made the journey and reached Greece in late 2018. Besides attending classes and educational support for Ferhard, his mother is supported to access health services. The family also receives monthly food and non-food items.
Canadians wishing to help vulnerable children are encouraged to Sponsor a Child, Sponsor a Village or make a Donation today to our COVID-19 response.