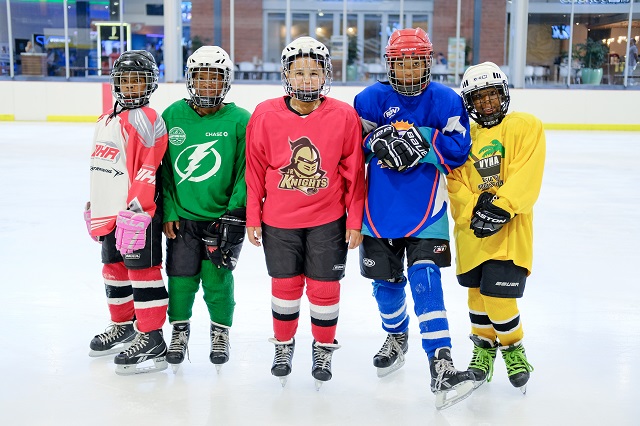 The Nelson Mandela Bay area in South Africa is one of the world's most dangerous. It is rife with gangsterism and schools often have to close their doors due to violence.
For a group of friends from SOS Children's Village Port Elizabeth, they have found refuge in ice hockey.
Khaya* (12) and Pieter* (13) live for Friday evenings when they get to practice with one of the local clubs in the city. The two boys have become friends on and off the ice and are often found together, strategizing about the next play or their future. The talented Khaya intends on playing ice hockey for South Africa and super-fast Pieter wants to become a national ice hockey coach. According to those who know the boys well, these two are completely different children compared to one year ago.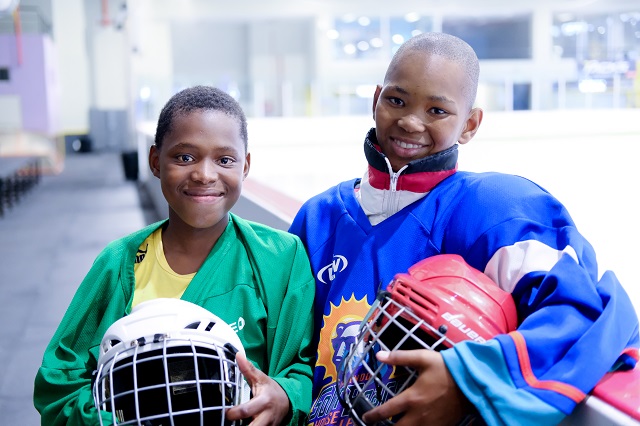 In 2018, one of the ice hockey clubs extended an invitation to SOS Children's Villages for four children to sign up for practice and gear – free of charge – if they could get to the ice rink every Friday evening. Amanda Daniels, SOS program development coordinator, decided that the opportunity was too good to pass up. Extracurricular activities and sports are especially important for children who struggle to fit in – whether at school or in the community.
The community that SOS Children's Villages serves in the Nelson Mandela Bay area is the notorious Northern Suburbs, where gangs reign the streets and a lack of jobs means many families live in poverty. It is hard growing up here, options are few.
Three boys and one girl under the age of 13 were selected to practice: Khaya, his brother Jack, Pieter and Denise.
There is something magical about Khaya on the ice. "On the ice he has such confidence and he is really good. He is fearless, and will try new things and so he is learning faster than the others. And that confidence came home with him," Daniels says. Khaya has had to change schools and has struggled with a learning disability. He was fairly shy and usually sat somewhere alone just drawing. "I have a drawing of him in his ice hockey gear in my office as a thank you," Daniels adds.
"My first time skating, I liked it but I didn't know what I was doing, I was just running, running. But then I saw, oh ok, I can do it. I learnt by asking people, 'Can you help me?'," says Khaya. "On the ice I am doing new stuff every time. But, the thing is, ice hockey is different for my culture because no one else does it. Only me, that I know. No other people out there do it in my culture, no one. And I like it and it's all fun and nice," he adds. "I'll push my best, do whatever I can to win a star, to go on."
Pieter, the oldest of the SOS ice hockey crew, knows very well how close he came to life on the streets and that ice hockey is his way out. "We get to express ourselves on the ice. We like skating, it's fun. It keeps us busy and out of trouble and other bad influences," says Pieter.
The two boys are holding on to each other on the ice. They are practicing skating in reverse. First Pieter leads, then Khaya. Denise is copying a figure skater and Jack is lost in his own world, skating up and down the length of the rink. There is a big match later and they get an hour of skating before the zamboni cleans the ice, an hour they would normally have to pay for.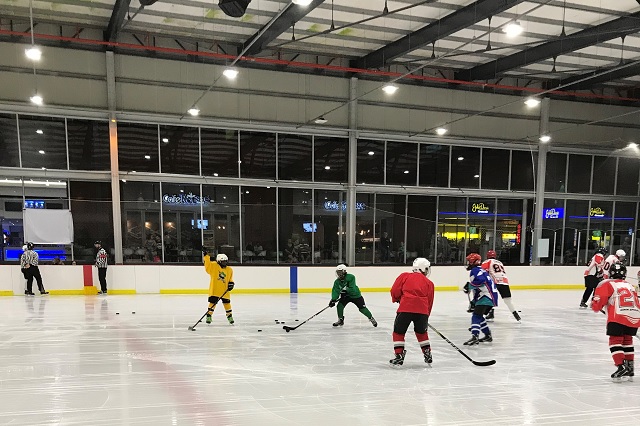 One of the deals between the SOS mothers and their four ice-hockey playing children is that they cannot practice if their homework is not done. They also need to do their chores before they can grab their kit and go to the pick-up spot.
Time on the ice is precious for the four children and they never want to miss out on the chance to skate and play hockey. They get to learn something new every week and missing a Friday skate means missing out on learning a new skill. "They will help each other in order to ensure they all go, like the Musketeers," Daniels says.
*Names changed to protect the privacy of the children.
Canadians wishing to help vulnerable children are encouraged to sponsor a child, sponsor a Village or make a one-time donation. Your support will change the lives of orphaned, abandoned and other vulnerable children. Please help today.