"I am growing every day": Interview with Sneha Bhuyan, YouthCan! participant and alumna of SOS India
Sneha Bhuyan, 20, of India is pursuing her studies and starting to build a professional life. She dreams about a career in human resources. As a member of the Youth Advisory Board, Sneha has played a key role in YouthCan!, the global initiative that empowers young people with alternative care experience as they transition into the world of work.
In this interview, she talks about her experience in YouthCan!, and shares her advice to care leavers entering the job market.
How did you become part of YouthCan!?
When I was 18, I left my SOS Children's Village in Guwahati and moved into a residential college. It was an emotionally difficult time and it took me a while to adjust to the change. I know many young people leave their homes to get an education, but my situation was different.
When I turned 18, I could no longer stay at the SOS Children's Village because of the national policies on alternative care. Still, it is and will always be my home, even if I can only go back there as a visitor. I have a strong bond with my caregivers and young people I grew up with – this will never change.
Soon after I left for studies, COVID-19 started. During and after the lockdown, I was alone in my college, attending classes online. I thought I wasn't productive enough and did nothing for my personal development and career.
Image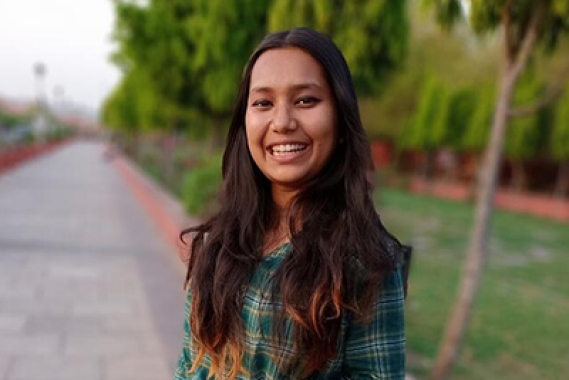 I was doubting myself and feeling like I wasn't good at anything. I needed a mentor to guide me in my professional life. This is when I learned about YouthCan! and got selected for the program by SOS Children's Villages India.
When I joined the Youth Advisory Board afterwards, it felt like the next level of happiness. I had a chance to take part in different activities: mentoring, advocacy, skills training and a business English course.
Speaking from your personal experience, what are the most important things young people in YouthCan! can learn?
During virtual mentorship sessions, I learned how to set goals, present myself in a job interview and boost my LinkedIn profile. The experience gave me courage and confidence. I am not overthinking everything anymore and I feel more comfortable interacting with people in my professional life and talking openly about problems. I see myself growing every single day.
Image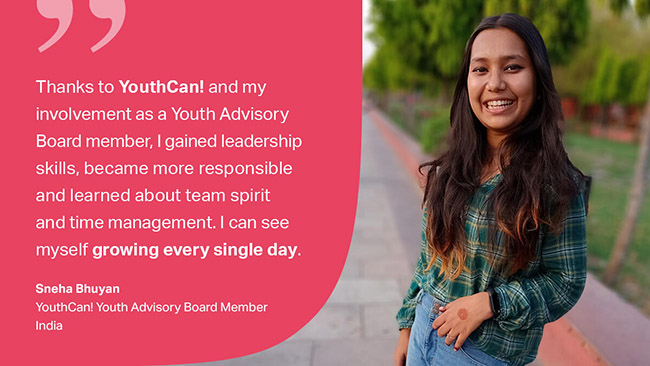 The opportunities to represent my country and build international connections are what I find most attractive about YouthCan!. I have met a lot of young people who are excited about the program and I hope more and more of them will be able to participate. YouthCan! gives us a platform and a space to learn and build skills - this can lead to more employment possibilities in the future.
What is your experience in the Youth Advisory Board like?
Representing other young people has taught me a lot. In YouthCan!, we get a lot of exposure and a space to express our thoughts freely, knowing that no one will judge us. We develop a team spirit and build leadership skills. As an international group of young people with similar experiences, we learn to think not only about our individual needs. When we ask for specific activities or advocate for changes, we speak as a whole.
Thanks to my role on the Youth Advisory Board, I could share my recommendations with SOS Children's Villages India, for example on the college selection process, mental health support and expansion of the mentorship offer. They have all been taken into consideration and are in the works, which means what we are doing has an impact.
Every day, young people live with the effects of COVID-19, face economic shocks and fear for the future of the planet. How do these challenges influence the way they plan their professional lives?
COVID-19 has changed the way we think completely. Before, young people used to follow a more traditional path, believing they would just find jobs and settle down. Right now, I see my friends taking initiatives, talking about innovations and entrepreneurship. Young people are investing more in their careers, taking things into their own hands in this time of uncertainty.
I am especially glad when I hear about my friends from SOS Children's Villages doing well. It is important for us to learn to be independent because the outside world is very different from the one we grew up in. We need to be ready to overcome our fears and take responsibility for ourselves. This is why, whenever I can learn something, I take the opportunity.
The main challenges for young people remain the same: getting a proper education, building skills, staying motivated. I think COVID-19 has taught us to take even more initiative. YouthCan! is not the only program for us in SOS Children's Villages. I am outspoken and active today because, growing up, I had people around me to learn from and I took part in every possible activity or event.
My village director always told me that the organization is like a potato market – you need to come with a big bag and take as many opportunities as you can carry.
You advocate for more mental health support for youth. How can transitioning into adulthood affect them emotionally?
The pressure can be terrible, especially for young people leaving alternative care. We all enter the system with different stories and traumas. My situation was specific because I was only three months old when I was brought to the SOS Children's Village – this is the only childhood I remember, and it was full of love, care and affection.
Nevertheless, I remember feeling all alone when my first caregiver retired. Experiences like that influence our mental health for years to come.
Leaving for college when I was happy in the SOS Children's Village was heartbreaking for me in a way. I remember feeling homesick and sad. Choosing your future career, leaving for university, and looking for your first job are three stages at which we all struggle, but it is different when you have parents and siblings who support you.
As a care leaver, I am on my own – but I have opportunities to learn, a support network back in my SOS Children's Village and my older siblings, all role models to look up to.
You say you would like to be a role model yourself, especially for children in alternative care. How do you plan to support them?
I would like to be in a position to help young people who graduate and do not know what to do or do not earn enough. I want to have the knowledge, experience and connections to be a helping hand whenever I am needed. I would like young people to develop the skills YouthCan! also promotes that are crucial in the world of work: communication, networking, creativity, time management and organization.
Thanks to my mentorship, I know how to deal with rejection and failure in professional life. But I have always tried to be positive in negative situations. I believe that whatever the universe has planned happens for a reason and will eventually be good for me.
Image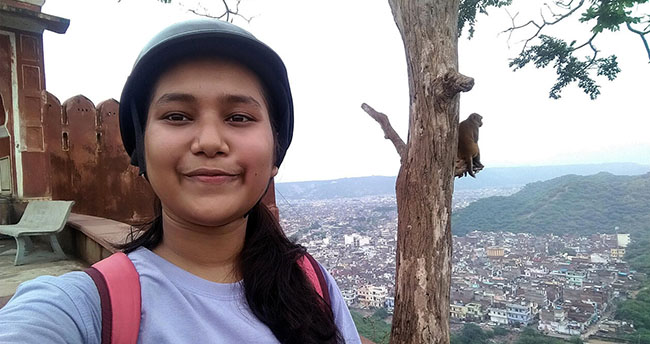 So I want to tell young people: You are doing great. Don't think about bad things that might happen, just keep going. One day we will achieve everything we are dreaming of. Don't stop. Find a platform and use it. Take every learning opportunity because one day it may turn out to be useful. Just trust the process.
Many young people struggle to find the right career path. How did you find yours and what would you advise them?
When I was a child, our teacher asked us to present our dream profession. I went for teaching because it was easy to draw, but later dropped that plan. My counsellor and other caregivers put a lot of effort into shaping the person I am today. When my competency test showed I would feel good in human resources, they encouraged me to explore the topic. Later, I had the opportunity to try different fields and I decided it was the right career for me.
I would advise young people to try as many things as possible to figure out what they want to do, just like my counsellor advised me back then. What also helped me a lot is looking for role models I can relate to. I grew up watching older children in the SOS Children's Villages who have the same background as me. Seeing them succeeding motivated me.
When I have negative thoughts, I always think about the positives, not about the things I lack. I look for people around me who can listen. These are the coping strategies I can recommend.
To all the young people out there who are struggling entering the world of work, I just want to say: You got this. Things will turn out fine very soon.
_____________
About YouthCan!: YouthCan! is a global initiative that empowers young people without parental care or at risk of losing it by supporting their transition to independence and decent work. In 2021, it reached 14,485 young people in 42 countries around the world. Learn more.