Image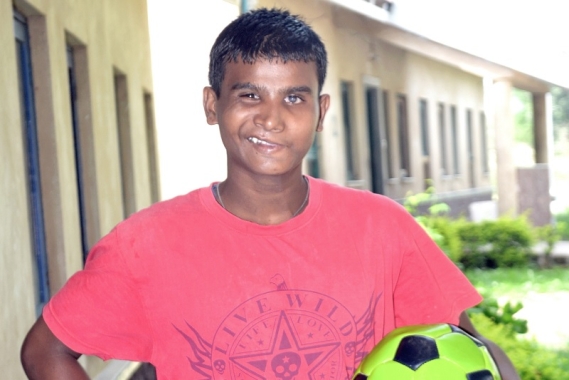 Special Olympics, here I come!
Buddy*, 16, has his eyes set on participating in the Special Olympics World Games in 2023, representing India in soccer. They young man joined India's Special Olympics Bharat organization and the state selection committee recently recommended him for Khelo India, a national program for development of sports. He lives in an SOS youth home in Khajuri Kalan, where he gets support and encouragement to pursue his goals.
Buddy is a fun-loving and comical guy. He loves dancing and singing and is always a bundle of energy. But his first love is soccer and he treasures the fact that his state team from Madhya Pradesh won the gold medal at the national championship in Ahmedabad. His talents on the pitch also caught the eye of the director for Special Olympics Madhya Pradesh and his coach was encouraged to groom the young man for the Special Olympics in 2023.
"I will put more efforts to polish my game and groom myself for international championships," said Buddy on his return from Ahmedabad. "I wish to fly in an airplane and will see my home from the sky; what my house looks like from that height will make me happy," added Buddy when he learned that international championships are organized beyond India's borders and that athletes reach those places by airplane.
This year, besides Ahmedabad, he has played in championships in Tirupati and Goa, where he won silver medals for his soccer talents. Buddy loves to get involved in extracurricular activities and has extended his peer support to other young people with special needs who also live in youth houses at SOS Children's Village Khajuri Kalan.
SOS Children's Village Khajuri Kalan assists young people with disabilities and has been providing quality alternative care for children and young people without parental care since 2004. It provides long-term care, rehabilitation and vocational training and has a paediatric unit, physiotherapy unit and sensory integration with occupational therapy unit for motor and sensor development in its medical centre.
*Name changed to protect the children's privacy.
Canadians wishing to help vulnerable children are encouraged to sponsor a child, sponsor a Village or make a one-time donation. Your support will change the lives of orphaned, abandoned and other vulnerable children. Please help today.