Nepalese families in crisis after COVID-19 surge
Image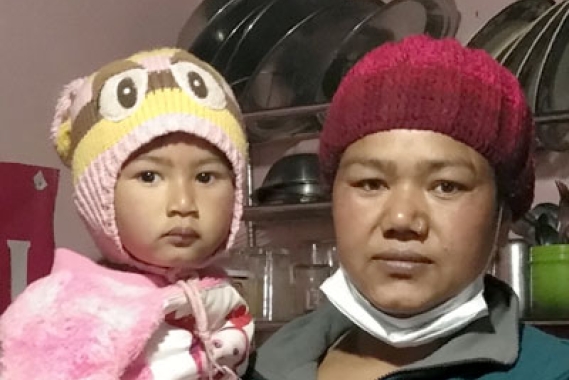 "After the untimely demise of my husband, I was devastated and scared, worrying about the life and well-being of my small child who was just two years then. My husband was sole the main breadwinner of our family and after his death, I was completely helpless. COVID-19 made me lose the domestic help job that I had taken up as a last resort! It seemed like end was near for me and my daughter too," Samjhana, 38, shared.
Samjhana lives in Kathmandu with her three-year-old daughter in a rented single room. Her husband died due to jaundice a year ago. He worked as a chef in India for several years.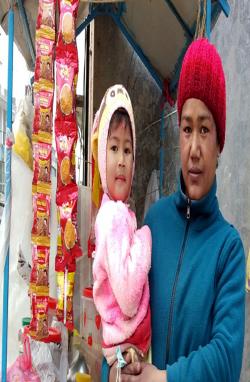 "I stayed with my husband in India for few years. However, I returned to Nepal during my pregnancy and stayed here. My husband used to visit us frequently. Unfortunately, he suffered from jaundice. We used all our savings and took loan from relatives for his treatment. However, despite making all the possible efforts, he left us for forever," Samjhana said.
After the death of her husband, the future of Samjhana and her child became uncertain. She had no savings or property. She didn't have any livelihood skills either. This left the mother and daughter unable to afford daily expenses.
"I had a pair of golden earnings, which I sold to buy rice and lentils. We managed to survive for almost three months with the money. In the meantime, I also started to work as a domestic help. However, people were reluctant to provide domestic work due to the fear of coronavirus. We had a miserable life," Samjhana added.
"As a silver lining in a dark cloud, my relative suggested I contact SOS Children's Villages. Now, my daughter is receiving stationery and school fees from SOS. She is in nursery school. In addition to this, I also received support to start my livelihood. I stared selling popular street snacks called chatpate (crispy spicy puffed rice) along with other fast food in a pushcart. This has somewhat eased my crisis temporarily. I ran this for almost four months."
Samjhana received livelihood support to start her business as a street vendor from SOS Children's Village Sanothimi through their Family Strengthening Program. Similarly, her daughter has been receiving educational support for the last two months. However, after the Government of Nepal imposed a lockdown in late April to help slow the transmission and rise in new COVID-19 infections, Samjhana has been adversely affected as cases rose and lockdown measures continued.

"I had a small dream to be self-reliant and independent. I hoped to earn and pay the loan that I took for my husband's treatment and fulfill my daughter's dream. However, this second wave of coronavirus halted my dream. I had just started my business and now I have not been able to do anything," Samjhana said.
"I couldn't provide nutritious food for my daughter. She suffered from a common cold for almost a month. Similarly, she had recently joined a school, however, the school is closed now. I am struggling to guide her. We have no property. It is difficult to pay rent. I have stockpiled rice and lentils for a month. I don't know what I will be doing after I finished cooking the stockpiled food." 
Samjhana is just one of the many SOS Children's Villages Nepal Family Strengthening beneficiaries who had been working as a daily wage labourer but lost their job. Samjhana, like many other vulnerable families in Nepal, are struggling to provide for their families during the latest devastating surge in COVID-19 cases. 
"After almost 10 months of full and partial closure in 2020, we hoped that life would be moving towards normalcy. When our young people and caregivers were heading towards helping themselves, the second wave of coronavirus pushed them back and made them more vulnerable than last year," the National Director of SOS Children's Villages Nepal Ishwori Prasad Sharma said.
SOS Children's Villages Nepal is working on finding ways to support these families and young people. Distributing food supplies, masks and sanitizer, and education materials, are just some of the steps SOS Children's Villages is taking to help vulnerable families get through these difficult times.
Canadians wishing to help vulnerable children are encouraged to Sponsor a Child, Sponsor a Village or make a Donation today to our COVID-19 response.