Preventing malnutrition among migrant Venezuelan children with daily meals in Colombia
The ongoing economic and political crisis in Venezuela has resulted in millions of Venezuelans leaving their homes to access food, jobs and a better life.   
In partnership with Christadelphian Meal-a-Day Fund - Americas, we distributed more than 72,000 nutritious meals in the last year to vulnerable Venezuelan migrant children in La Guajira, Colombia. The meals were locally procured from Venezuelan migrants who launched catering businesses through the SOS Children's Villages Family Strengthening Program.  
The SOS child-friendly spaces are in three locations and benefit up to 300 children daily.  
Image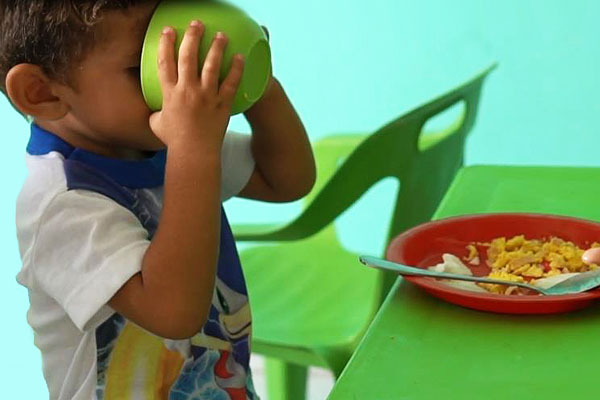 Child enjoying a nutritious meal at a SOS child-friendly space.
Image

Child-friendly space in Uribia, Colombia, built with twigs and cactus, an Indigenous traditional practice. 
Food insecurity and malnutrition
According to the World Food Programme, 30% of the Colombian population is food insecure, and La Guajira is registering even higher levels of food insecurity at 50%.
To respond to this hunger crisis, SOS Children's Villages operates child-friendly spaces in Maicao, Uribia and Riohacha. These safe spaces, located within migrant informal settlements, provide protection and care to children between the ages of 6 and 17 every day.   
A vital component of these child-friendly spaces is the provision of nutritious meals and snacks. For most of the children, this is the only meal they will eat during the day, making this support crucial to their survival and wellbeing. 
Meals contain a balance of protein, carbohydrates, fruits and vegetables.  Leftovers are packaged for the children to bring home and share with their siblings.  
The child-friendly spaces also provide mental health support, recreational activities, and workshops focused on self-protection to prevent forced recruitment by armed groups, child labour, and sexual and gender-based violence. 
Image
SOS staff in Maicao, Colombia, lead a game that teaches Venezuelan children about self-protection.