SOS Children's Villages welcomes announcement of Canadian aid for Ukraine and neighbouring countries
FOR IMMEDIATE RELEASE
OTTAWA, 18 March 2022 – SOS Children's Villages Canada welcomes Prime Minister Trudeau's recent announcement of funding for humanitarian relief efforts, including $2 million for SOS Children's Villages humanitarian response in Ukraine and neighbouring countries. Canada's commitment reflects the protracted nature of this crisis that will require sustained support in the weeks and months ahead.
"Urgent action is needed to save lives and prevent further human suffering in Ukraine and countries where Ukrainians are forced to flee. We applaud the Government of Canada's leadership and rapid response in allocating $50 million in Canadian humanitarian aid to trusted partners, including SOS Children's Villages. This vital aid will enable our emergency teams already on the ground to reach more children and families with life-saving assistance", said Thomas Bauer, President and CEO of SOS Children's Villages Canada.
The Ukraine crisis has put children in grave danger—both in Ukraine, where children face constant violence, stress, and trauma, and in surrounding countries, where children face the chaos of migration and are often separated from parents and family. These unaccompanied and separated children are at risk of violence and abuse, abduction, trafficking, psychological stress, hunger, inadequate healthcare, and permanent separation from their families.
Image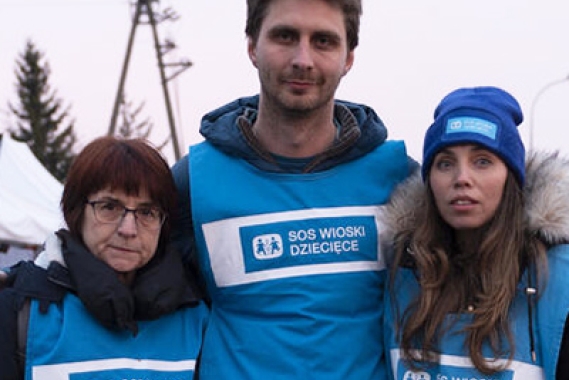 The situation is particularly desperate for the 160,000 Ukrainian children who live in alternative care settings such as orphanages and boarding schools. Under the current crisis, institutions are becoming alarmingly understaffed and challenged to provide primary care, psycho-social support, and assistance to children with disabilities. As a result, children in these settings are exposed to a heightened risk of violence and neglect and are isolated with very low chances to be evacuated.
The humanitarian needs are immense, and Canada's leadership is welcome as we work to address the needs of children and families caught in this catastrophe. Together with our Canadian and international partners, SOS Children's Villages is scaling up its response in the region to help provide relocation assistance, safe shelter, health care, food assistance,  mental health support, protection from harm, and family reunification.
SOS Children's Villages has been working in Ukraine since 2003, supporting children and families in the Kyiv region and providing humanitarian assistance in response to the 2014 conflict. We will continue our work in Ukraine as long as it takes—to save lives, reduce suffering, reunify and strengthen families, and maintain dignity among crisis-affected Ukrainians.
_____________
For more information: 
Tanja Kisslinger, Program Communications, SOS Children's Villages Canada, [email protected]
About SOS Children's Villages:
Founded in 1969, SOS Children's Villages Canada is a member of the SOS Children's Villages International federation. SOS Children's Villages is dedicated to protecting children and advancing their rights in a 137 countries and territories. We believe that children deserve more than just survival. They have a right to grow up in a safe and caring family environment, giving them the best chance of a secure future. Using a holistic approach, we work to empower vulnerable children, families, and communities to ensure children's rights are met. Through programs focused on child protection, education, health, nutrition, women's economic empowerment and humanitarian responses, SOS Children's Villages serves over 1 million people annually. Learn more: www.soschildrensvillages.ca