Image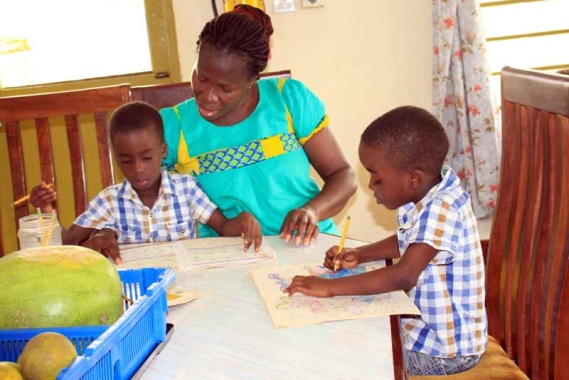 The bond between SOS mother Serwaa and the twin brothers – Anthony* and Nelson* – is beyond blood relations. The boys are practically attached to her at the hip at any given moment.
Anthony and Nelson were welcomed to the SOS Children's Village Kumasi in Ghana as infants after their parents could no longer care for them.
SOS mother Serwaa stepped into the role of the boys' mother and nurtured them with love and care, as if they were her own.
Last year, the two boys were sent to their extended family for the Christmas holidays. This was difficult for both as they missed Serwaa so much. Even though they are begining to understand that Serwaa is not their biological mother, their bond is still inseparable.
The first thing Anthony and Nelson do whenever they come home from school is to fall into mother Serwaa's lap for her to cuddle them before they take off their uniform. The love of a mother is priceless.
SOS Children's Villages provides orphaned, abandoned and other vulnerable children with a home with a loving SOS mother when parental care is no longer available to a child.
To help us continue to provide a safe and loving home to children around the world, please sponsor a child or make a one-time donation. 
With your help, no child will ever be alone.