Widowed father in Somaliland longs to reunite with his children
Khadar, 32, only gets to hug his young sons at the end of the week when they visit him. He feels the pain of separation from the two most important people in his life. 
Khadar is a single father. His wife died from medical complications in 2022, one year after marriage. She was expecting the couple's first child.  
After her funeral, Khadar's stepchildren, *Abdi,14, and *Dahir,12, were sent to live with their aunt. Without a female figure in his house, Khadar could not live with them. 
In Berbera, Somaliland, where Khadar lives, culture is deeply ingrained, and gender roles are clearly defined. The men are responsible for their family's financial wellbeing and safety, while the women care for the children and the home. 
There is a strong belief that men lack the parenting knowledge children need to grow and thrive.  
Image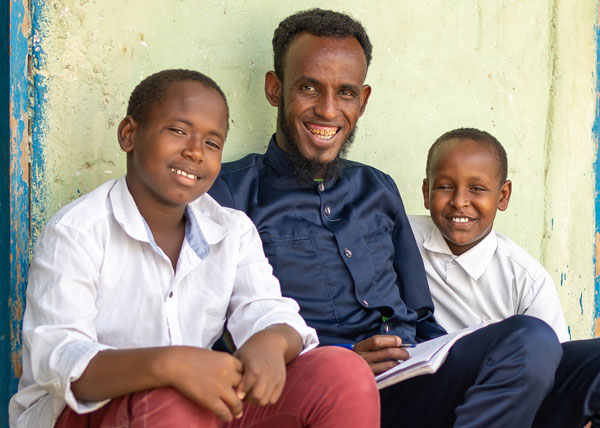 © Lydia Mantler 
"The Somali culture does not allow men to cook or take care of children," says Khadar. "My wife did all the cooking. Culture believes that my children cannot survive with me and that they receive better care at their aunt's home. For me to live with my children, I need to marry another wife who will cook and do the house chores for us."
"We are constantly sensitizing the community about cultural practices that abuse the rights of children and the need to drop them," says Ayanle Ahmed, the SOS Children's Villages Family Strengthening Program Coordinator.
Khadar says the separation was hard on the children. He manages their feelings of hurt and fear by promising to visit them often at their aunt's house. They are all struggling to adapt. 
The weekly visit 
Abdi and Dahir visit their father weekly, still in their school uniform – yellow shirt, green shorts, and sandals - every Thursday after school. They are happy to see him, and Khadar gives them a warm, tight hug. They stay overnight and leave the following day. 
Sitting on the stairs of their two-roomed house, Khadar looks at his children's exercise books to gauge their performance. He asks them about life at school, and they ask him when he will get married so they can be a family again. 
"I advise the boys to build their future by being diligent in their studies," says Khadar. "To never stop working hard in their education. I used to advise their mother, but since she is no longer here, I advise them to be strong and to not give up. We have a good relationship, and we love each other very much."
Khadar tries to be strong for the boys, but he has a lot on his mind. 
He works for a local community-based organization as the committee secretary and has a monthly income of $100 US Dollars. One year ago, the family was enlisted to receive support from the SOS Children's Villages Family Strengthening Program. Khadar's wife, before she died, was attending training to empower her as a caregiver. 
Ayanle Ahmed says that reuniting Khadar's family will only succeed when he makes enough money to pay for a dowry and remarries. The program's core objective is to keep families together.  
Khadar will receive training and ongoing support on parenting, how to run a business and financial management. His business goal is to open a retail shop in his neighbourhood. 
Together 
After catching up, Khadar and his sons take long walks in the neighbourhood and return home to wash dishes together. Khadar says he battles many painful, unresolved feelings, especially when alone. 
"I battle emotions of grief, anger and loneliness," he says. "I have tried to make peace with this different life and routine, but it has not been easy. Talking to a social worker from SOS [Children's Villages] has helped lighten my emotional burden. What I really want is for my family to live together and enjoy good health."
*Names changed to protect privacy. 
Image