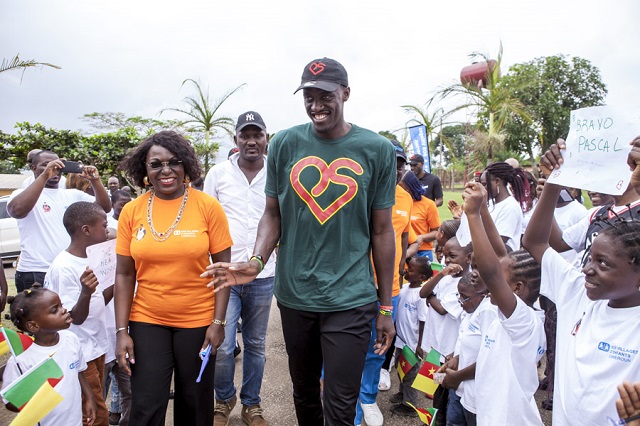 NBA champ Pascal Siakam visits SOS Village in Cameroon
The children of SOS Children's Village Douala waved Cameroon flags and displayed ear-to-ear smiles as hometown hero Pascal Siakam of the NBA Champion Toronto Raptors arrived at the Village on Tuesday.
Crouching low to be at eye level with the children, the 6' 9" feet tall (210.3 cm) player thanked the kids for their warm greeting.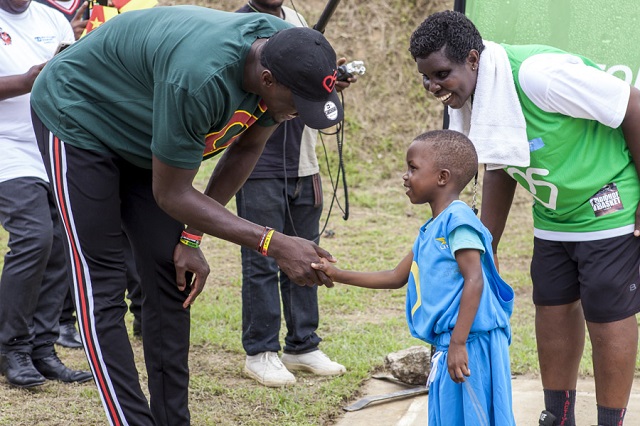 "It was like shaking hands with a giant," said a giggling 7-year-old girl.
Known for his humility, kindness and hard work, Pascal Siakam is a source of inspiration for Cameroonian children and youth. Pascal, 25, helped lead the Toronto Raptors to win the National Basketball Association championship this year – the first ever for Canada. He also won the NBA's Most Improved Player Award.
Now, Pascal says he wants to use his skills and power to give back to the community and support Cameroonian youth. 
Walking through the Village, Pascal learned about how SOS Children's Villages supports vulnerable children in Cameroon. Raised in Douala, Pascal was familiar with the difficulties faced by children in the city.
After a few words and a strong handshake with Pascal, SOS youth proudly demonstrated their own basketball skills on the court. Pascal did the honor of launching the game, and encouraged the players with shouts and applause, even jumping out of his chair to help a player get up after a fall.

'Have dreams, set goals, work hard'
Pascal's visit followed another recent visit by NBA players to the SOS Children's Villages in Dakar, Senegal. Senegalese player Tacko Fall of the Boston Celtics and NBA legend Dikembe Mutombo from the Democratic Republic of Congo thrilled children and staff last month when they came by as part of the NBA Cares outreach initiative.
In a discussion with the children, who affectionately called him "tonton Pascal" – meaning uncle - Pascal shared words of encouragement: "Have dreams, set goals, and then work hard to achieve these goals. In Cameroon, we know about working hard. Investing in our dreams and working hard is the base of everything. Always work hard."
In an emotional moment that touched the children, the basketball player also discussed his life path, emphasising the importance of family and sharing how the loss of his father while he was a college student was a difficult and defining moment in his life.
Pascal shared impressions of the visit later at a press conference: "The time I spent at the SOS Village was exceptional, and the work that the staff is doing there is impressive. It was a real pleasure to be there and meet those children."
Pascal also shared what meeting with the SOS children meant to him: "I was raised a certain way, always looking up to my older brothers and sister. To see these children today looking at me the same way, like a big brother, it really means something to me. It makes me glad and thankful for the time I could spend with them. This is a moment I will not forget."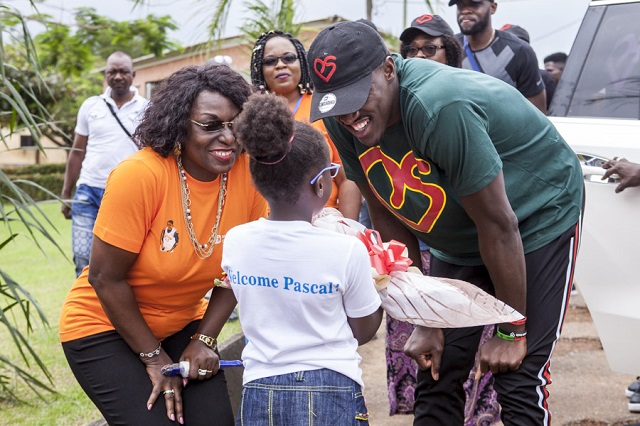 Photos by Martin Dixon
Canadians wishing to help vulnerable children are encouraged to sponsor a child, sponsor a Village or make a one-time donation. Your support will change the lives of orphaned, abandoned and other vulnerable children. Please help today.