About our program 
In 2023, SOS Children's Villages Canada has started canvassing on the street where people gather and at potential at the door in neighborhoods across Canada.  We are following all local public health guidelines for this activity.
Face to Face canvasing  provides a means of helping to grow our community of monthly donors. In order to do this we are partnering with Canada's most well-respected face-to-face fundraising companies.  We are currently using    UP Fundraising they have been rigorously vetted by SOS Children's Villages in order to ensure that their recruitment practices are ethical, responsible and in line with Canada's current federal regulations.
This campaign will grow the number of supporters of  SOS Children's Villages and help educate the Canadian public on the incredible global impact of SOS Children's Villages. 
Image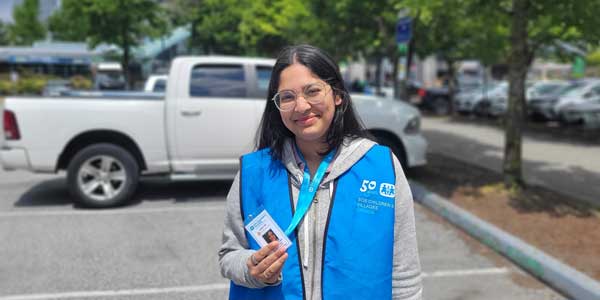 Media
Image

How do I identify a SOS Children's Villages Canada Canvasser?
Each of our canvassers will have the following identifiable collateral; 
An identification badge which states the canvassers name as well as their identification number. This badge should be attached to an SOS branded lanyard. 

NOTE: If the fundraiser is in training, their badge may state "Trainee" in place of their name.

An SOS blue vest branded with the SOS Children's Villages logo 
An SOS canvasser will NEVER ask for or accept cash donations 
An SOS canvasser will process information through a handheld device or iPad 
You will receive a welcome call 24-48 hours following your signup to verify your information and intent to donate monthly
To collect your payment information in a safe manner, GlobalFaces Direct uses a verification calls, where an agent working in the confirmation centre will confirm your personal information and collect your payment information.  This number may call you back as well, it is 1-888-336-2987
COVID-19 Safe Practices
Will keep a safe distance;
Will wear locally suggested personal protection equipment
Will use contactless verification as requested
Will have access to other sanitizing material and use regularly
All Canvassers will have regular health screening before working every day
Where are we? 

The following is a list of communities where we are currently canvassing. If you have seen an SOS canvasser recently in a city which is not listed below, please contact us immediately 1-800-767-5111 
Where People Gather:
 
British Columbia:
Abbotsford
Burnaby
Coquitlam
North Vancouver
Richmond
South Vancouver
Vancouver
West Vancouver
And various malls inside with a dedicated booth.
Ontario:
Brampton Etobicoke
Mississauga
Toronto
Contact Information 

If you require more information regarding this program or any of our canvassers, please contact us 
Additionally, if you met one of our canvassers at the door and are interested in joining the program, you can signup for our monthly giving program.