A Tale of Infant Twins: Happy and Healthy
Image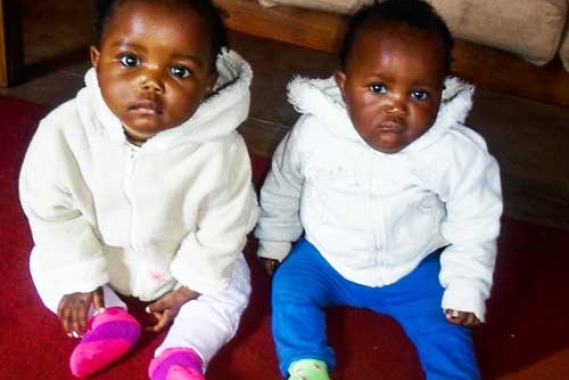 Nine months ago, in October 2013, House #7 in the SOS Village of Chipata, Zambia, was a hive of activity with the arrival of four-day-old twins Hilda and Rhoda. Mary, SOS mother to House #7, was especially excited to receive the newborns.
"It was a delightful day," Mary remarks, "and the rest of the children were very happy when they saw the two bundles of joy."
Hilda and Rhoda have not had an easy start to life and Mary planned to make up for this fact by doing everything in her power to ensure their health, safety and happiness.
Hilda and Rhoda's mother had been in labour, walking for hours towards the nearest clinic, when she was forced to deliver on the side of the road. Lacking proper medical attention, the young mother passed away shortly after, leaving the baby girls solely in their father's care.
With two other children and elderly parents to care for, their father simply did not know how to cope without the infants' mother. He only had one bicycle as a mode of transport to the nearest health centre or school – both at least a few hours away. His income was not enough to provide the support that the two baby girls required.
Upon their arrival at the SOS Children's Village Chipata they were taken to the medical centre for a check-up. Hilda weighed 1.9kg while Rhoda weighed 2kg. Today they weigh 8.6kg and 8.5kg, respectively. This miraculous growth spurt may have something to do with their favourite food, a cereal made of maize meal mixed with ground nuts. Further medical reports indicate that they are indeed developing well.
"The twins are my source of joy and have grown into beautiful girls; something I never thought would be easy," says Mary.
The twins' biological family is very much a part of their life. Their grandparents adore them and they visit often.
"Rhoda and Hilda are the light in their grandmother's eyes, and so loved by their father," says Rosalia Mutenekwa, SOS outreach social worker. 
In their SOS family they will have an opportunity to go to school and they have access to medical services – there is also a mom who takes care of their daily needs. These days, says Rosalia, you find two little girls with faces happily crawling after their SOS mother as she does her chores.