A Life on the Streets Transformed - #putchildrenfirst
Image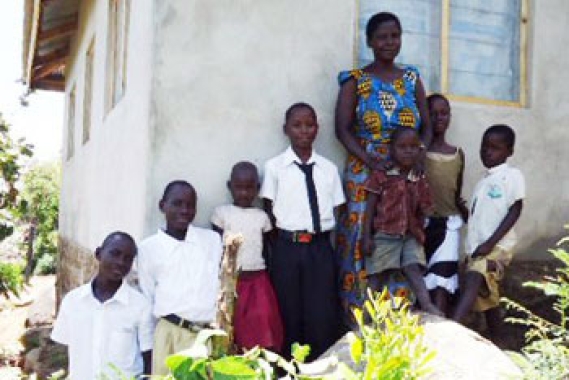 When Agnes' husband died, she and her nine children were left alone and without support. The 37-year-old mother from Mwanza, Tanzania, was unemployed and struggled to provide for her children, and the family ended up begging on the streets.
Mwanza, the second-largest city in Tanzania, has seen a significant increase in the number of street children in recent years. Despite economic growth, Tanzania is still one of the poorest nations in the world. A lack of clean drinking water and widespread malnutrition and disease lead to nearly one in ten children dying in infancy. 40% of the population live on less than a dollar a day; 35% are chronically malnourished.
Education is low, too, with a school enrolment rate of only 57.3%: Agnes's own parents had been poor and illiterate peasant farmers who did not understand the importance of education.Without financial support from them, Agnes never completed primary school. She explains, "I dropped out of school and stayed at home for a while. My parents forced me into marriage with a husband they chose for me…. I didn't want to get married; unfortunately, I had no choice but to obey them."
The real nightmare began when her husband passed away and she could not meet her family's basic needs. Living conditions became increasingly precarious: meals were barely adequate, illness was treated poorly, and the children's schooling became a dream. Eventually, her in-laws chased her away, accusing her of killing her husband.
Agnes, her six boys and three girls became beggars. They lived off of handouts. One kind-hearted helper found her a one-room shack to live in, but the conditions were still rough and her income was far too low.
In 2010, SOS social workers went out into the community to look for families in need and learned about Agnes and her family's situation. She and her children were enrolled in the Family Strengthening Program, which provided them with monthly food packages, school supplies and uniforms, and training. The children immediately returned to school, and Agnes learned parenting, business development and management skills.
She received start-up capital from the program to open a business selling fish, finally allowing her to earn sufficient income. After repaying the loan, she eventually saved enough to buy a piece of land and build a four-bedroom house. She took out a second loan to purchase building materials, and the whole family contributed to the effort, making bricks, fetching water, cleaning the ground, and collecting firewood, sand and clay.
Agnes is proud of her achievements, saying that she wishes that her in-laws would come and see her now. "They chased me away like a street dog but now I am a better person. Life can still go on through hard work, commitment and support from organizations like SOS Children's Villages, which cares for vulnerable people," she says.
For more of our Put Children First campaign, please follow our Twitter and Facebook. Keep others in the loop by using the hashtag #putchildrenfirst!

Canadian's wishing to support SOS Children's Villages are encouraged to sponsor a child, sponsor a village or to make a direct donation. Your support ensures that SOS Children's Villages can continue to provide a safe and loving home to orphan and abandoned children worldwide.