A summer of laughter at the Garden House
Tuesday, February 10, 2015
Image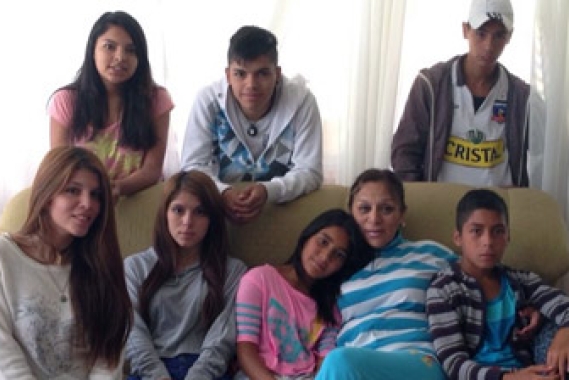 Veronica Maldonado knew a lot about SOS Children's Villages before she took the plunge and became an SOS mother.
For 38 years she watched from the sidelines as her sister, Griselda, cared for groups of children in SOS Children's Village Bulnes, Chile. Finally, as a widow with her own daughters grown and married, Veronica decided she wanted her own SOS family. Today, she is a mother of seven in Casa Jardin, or the Garden House.
"This week we are on vacation. We will go swim in the lake, take evening walks and visit some of the local craft fairs," said Veronica. "This summer will be filled with laughter, affection and personal growth."
The Garden House is home to teenagers Reinaldo, Bryan, Camila, Jenny and Valeria, and the younger children Javiera and Rafael.
"We love each other very much – sometime we fight, but like all siblings we always end up forgiving each other," says Reinaldo. "My SOS brothers and sisters are very supportive."
Jenny and Camila are biological sisters who arrived in the Village three years ago. They are very close to their SOS mother, explaining: "We understand each other very well, there are no trust issues between us."
"When we were younger we had a lot of inner conflict," says Camila. "We weren't very interested in studying or getting ahead, but with Veronica, we have learned to have the courage to set our own goals and to fight for what we want. We have grown as young women and we are so grateful."

Canadian's wishing to support SOS Children's Villages are encouraged to sponsor a child, sponsor a village or to make a direct donation. Your support ensures that SOS Children's Villages can continue to provide a safe and loving home to orphan and abandoned children worldwide.