Acclaimed singer-songwriter Amanda Martinez is proud to be an ambassador of SOS Children's Villages work – and went to Namibia to be an SOS mother to prove it!
In January 2015, SOS Children's Villages brought Amanda to Namibia, a country just west of South Africa where there are three SOS Children's Villages. There, Amanda became an SOS mother to eight orphaned and abandoned children while a camera crew filmed her experiences. 
Music and family are the two things that Amanda holds dearest to her heart. She lives with her husband and their three young children in Toronto, Ontario.
"Being a mother, whether in Canada or Namibia, is the most rewarding and challenging job in the world. Parents are the most important figure in a child's life. They are the source of a child's love. They shape who the child becomes," said Amanda.
Amanda cultivated a taste for music at an early age, but it wasn't until after obtaining her master's degree in international business that she decided to make music her career. In 2001, while on her lunch-break, Amanda had an epiphany and left her successful banking career to concentrate on singing.
Her music blends her Mexican and South African roots with flamenco soul, earning her three Latin Jazz Artist of the Year nominations at Canada's National Jazz Awards and Toronto's Independent Music Award for Best World Music Artist. Amanda's contributions to Canada's cultural scene were recognized by the Minister of National Revenue who named her one of the Top 10 Most Influential Hispanic Canadians.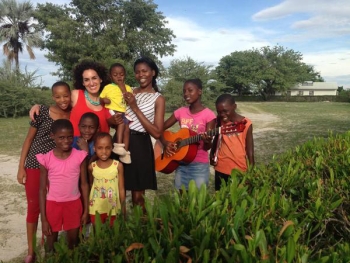 While Amanda was in South Africa to perform for the 2010 World Cup Celebrations, her relationship with SOS deepened. She had recently visited an SOS Children's Village in Mexico and decided to give proceeds from the song she performed at the World Cup, "Sueños Posibles" (Dreams that are Possible), to SOS Children's Villages. She also donates proceeds sales of her latest album, Mañana, she to SOS Children's Villages. During January's journey to Namibia, she wrote a song dedicated to and inspired by the children she stayed with.
 "All children deserve to have the opportunity to thrive and reach their full potential. Unfortunately, millions of children around the world are born into circumstances where they don't have those opportunities," said Amanda. "And, SOS is giving these children their childhood back, I have seen it firsthand."