SOS Children's Villages made contact with the Bosnian authorities during the war in 1994. At first we provided relief aid to families who had been affected by the war. When the war ended, the work of SOS Children's Villages focused on providing more permanent support to the local population. SOS Children's Villages is now present in four locations in Bosnia Herzegovina and supports children, young people and families.
Sponsor a Child in Bosnia and Herzegovina
SOS relies on the kindness and generosity of Canadians to be able to provide a home for the most vulnerable children of Bosnia and Herzegovina.
For just $36/month you can sponsor a child in Bosnia and Herzegovina and help provide an orphaned or abandoned child with:
A safe and nurturing home
A loving SOS mother
Quality education
Healthcare
Nutritious food
Clothing and toys
All the things necessary for a bright future
Please help us ensure a loving home for every child. Sponsor a child in Bosnia and Herzegovina now.
| | Child Poverty Rate | Child Malnutrition | Average Yearly Income | Unemployment Rate | Below Poverty Line |
| --- | --- | --- | --- | --- | --- |
| Bosnia & Herzegovina | 17.90% | 11.80% | $4,740 | 28.40% | 14% |
| Canada | 8.80% | #N/A | $52,200 | 7.10% | 9.40% |
159
Orphaned and Abandoned Children

Emergency relief recipients
SOS Children's Villages in Bosnia and Herzegovina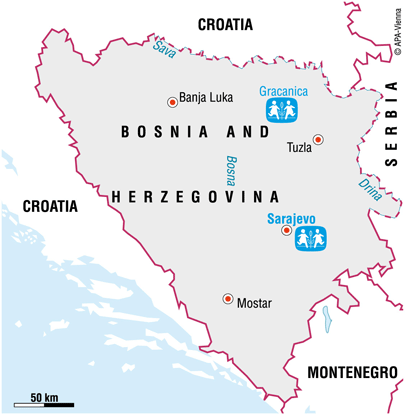 SOS Children's Villages work in Bosnia and Herzegovina has varied to meet the needs of the children, young people and families in a country which is recovering from war in the 1990s. The organisation has provided relief aid, has re-built kindergartens in the city of Mostar and has also provided long-term support to the local population. Social centres in Gorazde, Sarajevo and Mostar organise day-care, training and counselling and psychological support to families, thus allowing them to protect and care for their children in the community. When children can no longer live with their families they can be cared for by the SOS mothers. Young people can learn to live semi-independently in flats and houses in Tuzla and Sarajevo.
A country at the heart of the Balkans
Bosnia and Herzegovina is located on the Balkan Peninsula in Southeast Europe, bordering Croatia in the north and west, and Serbia and Montenegro in the east and the south. The capital is Sarajevo with around 392,000 inhabitants.
The population is 4.6 million, of which nearly half are Bosnians, one third are Serbs, and about one fifth are Croats. Children under the age of 18 account for nearly one fifth of the population. Approximately two fifths of the population are Muslim, one third are Serbian Orthodox and 15 per cent are Roman Catholic.
Recovering from the war
Bosnia and Herzegovina is still recovering from the war which took place in the 1990s. At the end of the war the infrastructure and economy had been destroyed and two million people had been displaced. The water and electricity supply had to be reconnected and schools, homes and roads had to be rebuilt. The unemployment rate is estimated to be a staggering 43 per cent (2010 est.). Young people, women and people with disabilities and the Roma have the highest unemployment rate. Most people are employed in the services, with industry and agriculture also providing employment.
Official national figures estimate that around 20 per cent of the population live below the nationally-defined poverty line and 30 per cent just above the poverty line. People living in rural areas are particularly affected by poverty. Poverty-stricken households include those with three or more children and those comprised of refugees or displaced persons.
The provision of services such as health and education is shared between different levels of government and remains inefficient. Many people, particularly those in rural areas, are not covered by health care.
Children in need of protection
The war of the 1990s badly affected children's rights. The responsibility to protect children's rights is currently shared between different levels of government. The fragmented, decentralized structure of the government makes implementation of national policies and legislation a significant challenge, and results in a lack of responsibility and accountability.
Many of the poor and vulnerable children are from disadvantaged groups, differentiated by ethnicity, religion, disability, gender or the rural/urban divide. Children from families who were internally displaced during the war and those with disabilities account for the highest number of children in need. According to UNICEF (2009 figures), five per cent of children between the ages of five and fourteen were involved in child labour. Children from rural areas accounted for two thirds of this figure.
Access to primary education is high but some groups have limited access. Children in rural areas have lower school attendance rates. Roma children are often excluded because they are not registered with the authorities. Disabled children have limited access because schools do not have adequate disabled facilities.
Girls are victims of commercial sexual exploitation and trafficking. There is a high incidence, especially in rural areas, of girls under the ages of 18 marrying.