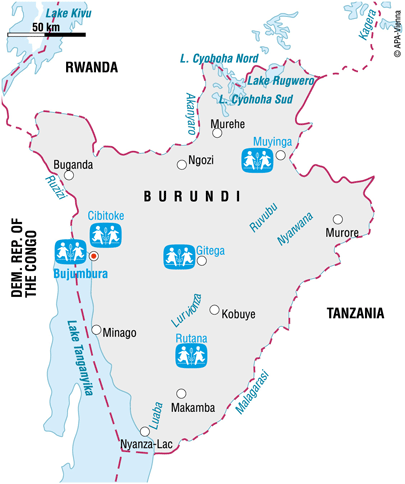 26 May 2015 – Bujumbura, Burundi – 24-year-old Naila Kamariza, an SOS youth, died when unknown assailants threw grenades into a market in Burundi's capital, Bujumbura. Another person was also reportedly killed in the attack which left several people wounded, including another SOS youth.
The death and injury were confirmed by Liliane Habonimana, the communication and fundraising advisor at SOS Children's Villages Burundi. "The SOS family Burundi is extremely shocked by the unexpected death of Naila Kamariza which occurred on Saturday afternoon at Prince Regent Charles Hospital," she said.
Liliane added: "Naila, who was in the company of Yvette, another SOS youth, had gone to an open air market in the city to buy fruits and vegetables. An unknown person hurled a grenade into the marketplace injuring both girls among other shoppers. The attack occurred on Friday night [22 May]. Naila succumbed to her injuries on Saturday while Yvette is recovering in Prince Louis Rwagasore Hospital. The doctor has confirmed that Yvette is out of danger and will recover from her wounds. The national director, Pascal Bizimana, is considering her transfer to the SOS Medical Centre, for better care."
Both girls, 24, grew up in the SOS Children's Village Muyinga and went on to study at the University of Great Lakes in Bujumbura. They live independently but have been receiving support from SOS Children's Villages Burundi, for their education.
Naila was an orphan with no known relatives. As such, SOS Burundi will make all her funeral arrangements.
Burundi has been rocked by four weeks of protests, in which at least 20 people have died according to British newspaper The Guardian.
At least 100,000 Burundians have fled to neighbouring countries fearing political violence ahead of the elections The Guardian reported, 
SOS Children's Villages deeply regrets the sudden loss of this young and promising life.