At present there are five SOS Children's Villages in Burundi as well as four SOS Youth Facilities, five SOS Kindergartens, six SOS Hermann Gmeiner Schools, four SOS Medical Centres and five SOS Social Centres.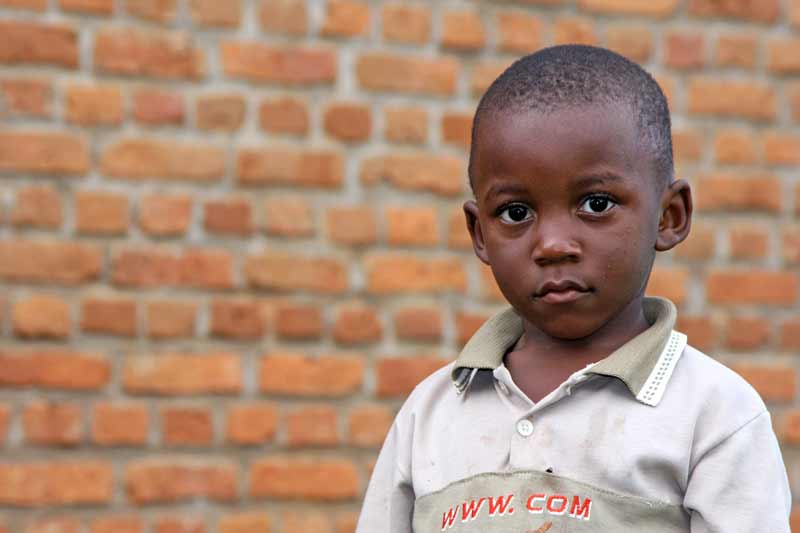 in Burundi
Burundi is a country traumatised by many years of armed ethnic conflict. During the war, tens of thousands of children were exposed to extraordinary high levels of violence. SOS Children's Villages began its work in Burundi in 1976, aiming to help the many children and young people in need.
At present, the organisation especially focuses on children who suffer from HIV/AIDS.
Burundi has a turbulent history Located at the very heart of the Great Lakes region, The Republic of Burundi shares borders with Rwanda, Tanzania and the Democratic Republic of the Congo. A significant portion of Lake Tanganyika forms part of its territory in the country's southwest.
Sponsor a Child in Burundi
SOS relies on the kindness and generosity of Canadians to be able to provide a home for the most vulnerable children of Burundi.
By becoming a child sponsor you are making a commitment to helping an individual child in need. Your gift will help provide a child with food, clothing, education and a loving SOS mother.
Please help us ensure a loving home for every Burundian child. Sponsor a child in Burundi now. Your donation will help change an orphaned or abandoned child's life.
| | Orphaned Children | Infant Mortality | Child Malnutrition | Average Lifespan | Below Poverty Line |
| --- | --- | --- | --- | --- | --- |
| Burundi | 740,000 | | 57.70% | 56 | 66.90% |
| Canada | 45,000 | | #N/A | 82 | 9.40% |
661
Orphaned and Abandoned Children
2 425
Elementary and secondary students
SOS Children's Villages in Burundi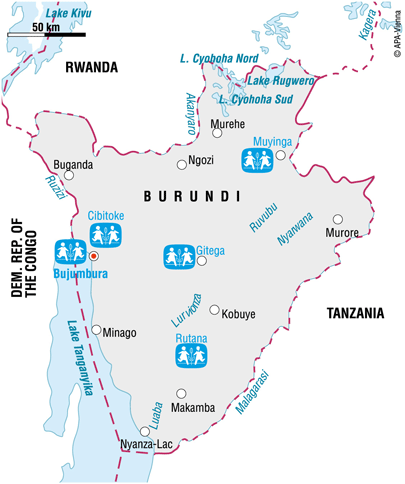 The socioeconomic situation that many children and their families faced in the 1970s required prompt and effective help.
In 1979, SOS Children's Villages initiated its first program on Burundian soil. Since attending school was not obligatory in Burundi, SOS Children's Village took the decision to support the future of the country's children by building appropriate education facilities.
At present, SOS Children's Village is supporting Burundian children in five different locations by providing day care, education, vocational training and medical assistance. The organisation aims to strengthen families in order to enable children who are at risk of losing parental care to grow up within their own family. Children who cannot be taken care of by their own family can find a loving home in one of the SOS families
Burundi Brief History
Burundi's capital is Bujumbura. In total, the country's population is around 10.6 million. Burundi's main export commodities are tea and coffee. They account for a vast part of the country's foreign currency earnings.
Germany occupied the country in the late 1880s and along with Rwanda, Burundi formed part of German East Africa. In 1961, it gained independence. However, it has since been plagued by a severe ethnic confrontation between the Hutu majority and the Tutsi minority. In October 1993, after only 100 days in office, the first democratically elected head of state was assassinated. The murder triggered widespread violence all across the country and led to 12 years of civil conflict.
In 1961, it gained independence. However, it has since been plagued by a severe ethnic confrontation between the Hutu majority and the Tutsi minority. In October 1993, after only 100 days in office, the first democratically elected head of state was assassinated. The murder triggered widespread violence all across the country and led to in 12 years of civil conflict.
During these years, nearly 200,000 were killed and hundreds of thousands ended up as refugees in neighbouring countries. After long and intense peace talks, a ceasefire agreement, politically supported by South Africa, was signed by the new government in 2001. Most of the country's rebel groups agreed to it, with the last group laying down arms in 2009. The government and the United Nations started to disarm thousands of rebels and former soldiers and a new army was formed.
A war-ridden nation trying to get back on track
So many years of intense civil war have certainly contributed to widespread poverty: around 84 per cent of the population are poor, making Burundi one of Africa's poorest nations. Hundreds of thousands were killed and nearly 1.2 million internally displaced as a result of the war. Particularly in rural areas, people are facing precarious living conditions. The long period of fighting had a strong impact on agriculture, which is the primary source of livelihood for most Burundians.
Reoccurring droughts and other natural disasters frequently lead to food shortages. The country remains marked by poor education and health services. Much of its health care system was destroyed during the civil war. Only 46 per cent of Burundians have access to proper sanitation facilities. Most of them also lack food, decent housing and potable water.
Primarily owing to the country's bad education system, illiteracy levels remain extremely high: nearly five in ten Burundians cannot read and write.
Like in so many other African countries, a major public health concern is HIV/AIDS: the adult prevalence rate is 3.3 per cent, meaning that around 180,000 people are living with the virus. Death and disability from malaria and a number of other diseases, including typhoid fever and hepatitis A, have also been on the rise.
Such diseases profoundly deplete the country's labour force as many Burundians die in their most productive years. Nonetheless, the country has one of the highest fertility figures in the world: the average Burundian woman gives birth to six children.>
Childhoods tarnished by war and AIDS 610,000 children in Burundi are orphans.
In addition to the high number of children who have been orphaned by AIDS, many more have been abandoned by their parents due to the precarious economic situation they face. As a result, Burundi is also home to thousands of homeless children who roam the streets either alone or in groups.
In order to survive, many children resort to begging. Others work as street vendors and some are even forced into commercial sex work.
Overall, an estimated 25 per cent in the age group five to 14 are involved in child labour activities. Child trafficking represented one of the main threats that children were facing face during the civil war. Thousands of young boys were recruited by the armed rebels. Recruitment took place beyond the national boundary and into refugee camps in neighbouring Tanzania and not only in Burundi itself.
Young child soldiers were forced to transport ammunition, carry wounded or dead soldiers and some of them to actively participate in killings and torture. Armed groups also abducted girls into sexual slavery. These children are left with deep psychological scars. Because of the war, a great number of children grew up in refugee camps far away from their home country. Many of them went back to a "homeland" they hardly even knew.
Due to high levels of poverty, around 35 per cent of all children in Burundi are undernourished.
One of the country's major public health problems also affects young children: around 90,000 children in Burundi were infected with HIV by their mothers during pregnancy.