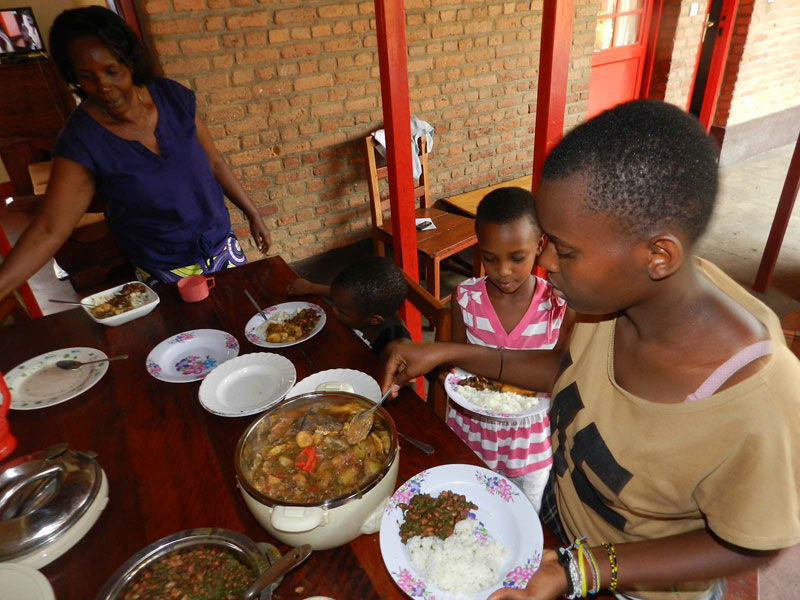 "I learnt how to cook agatoke from my mother," says SOS mother Jacqueline as she peels a bunch of green bananas that are the main component in the dish. "By the time I was 10 years old I could prepare it on my own."
Jacqueline, an SOS mother in SOS Children's Village Bujumbura in Burundi for 14 years, is a trained cook. She says that of all the savoury food she prepares for her 10 children, agatoke tops the list.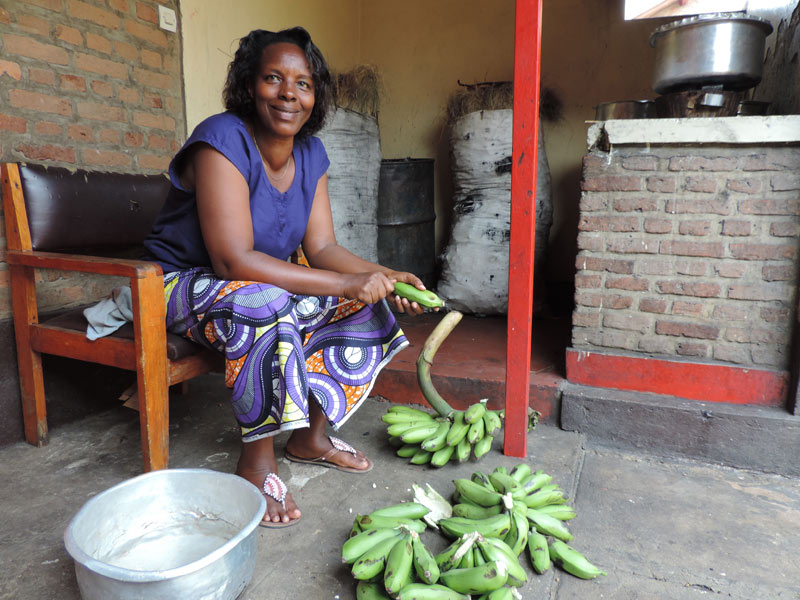 Once Jacqueline is done with the bananas, Lyna, 5, and Joyce, 7, join her at the dining table to peel garlic; "remove the peel like this….. easy does it", Jacqueline tells the girls.
Agatoke is a complete meal by itself. The recipe consists of green bananas, amaranth, leek, red onions, egg plants, garlic, celery, ndagala (a tiny fish eaten whole), tomatoes and green pepper.
"Attention to detail makes all the difference when preparing agatoke," says Jacqueline. "Using the right amount of spices and colouring is essential. There are variations of cooking this meal to include peas and spaghetti but some of my children do not like peas and others do not like spaghetti. So I am forced to cook it in this same way."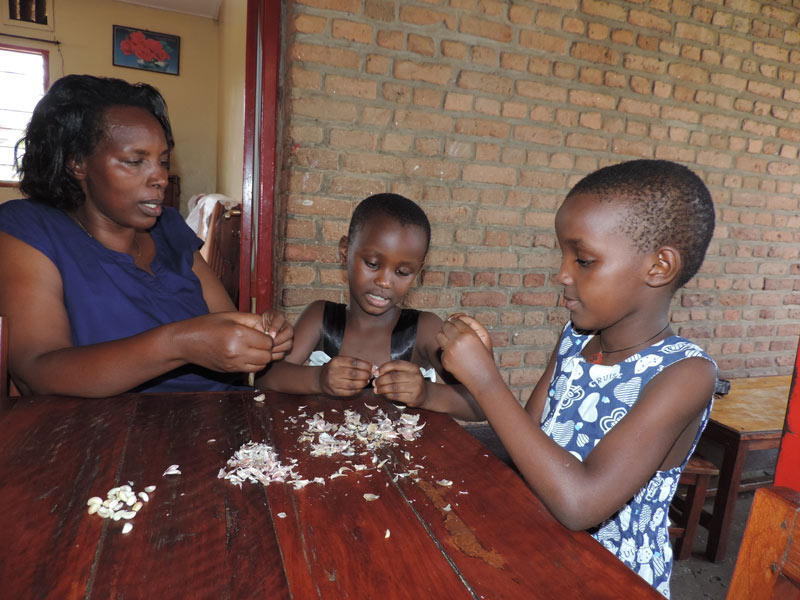 "Furthermore, this is the only meal containing vegetables that my children eat without a fight. I always tell them that vegetables are good for their health but they just don't like them. Luckily the greens in agatoke are hidden by the colour produced by tomatoes."
Agatoke is a traditional cuisine that has been passed on from generation to generation. So Jacqueline is keen to pass on the skill to Christa and Sandrine, the eldest girls in the family. As part of their training, the 13 year olds chop up amaranth, red onions and leeks, and then remove the skin from the boiled tomatoes. Meanwhile, Jacqueline cleans the peeled bananas in the kitchen sink.
"Very soon my two daughters will move to the youth homes which means they are on their way to adulthood. If I do not train them now it might be too late."
After all the vegetables are ready Jacqueline puts them into a large pot, pours in a litre of water, and sets it on a charcoal stove. The mixture will cook slowly for an hour.
"I let it cook for that long so the flavours in the ingredients are released gradually. This produces an alluring and flavourful aroma, and that is when the children begin to sing – '"agatoke kurahiye, agatoke kurahiye''' in Kirundi which means agatoke is ready! agatoke is ready!"
Jacqueline stirs the casserole gently as it cooks. She prefers fresh ndagala in this dish despite popular use of dried fish in Burundi cuisine. "My children do not like the smell of the dried fish. Moreover fresh ndagala is richer in protein, vitamins and minerals," she says.
Finally the thick vegetable stew with visible chunks of banana and mash of the other condiments is ready to plate!
The side dish
Agatoke is consumed twice a week in this family and even though it is a complete meal by itself, Jacqueline likes to serve it with boiled rice and fried beans. Peek into any Burundian plate and you will find beans. The legume is a daily staple and the most common source of protein as meat is too expensive for majority of the families in this tiny East African country.
Before settling down to savour the long awaited meal, Jacqueline and her children must say a prayer of thanks giving. They are grateful for yet another scrumptious meal of agatoke.