Not going to school is Jean's greatest fear
Thursday, February 10, 2022
Eight-year-old Jean* does not want to miss out on school like some children in his neighbourhood.
Every day on his way to school, he sees children his age, sometimes younger, forced to work in unsafe conditions to contribute to their family's income.
Jean and his family live in Buterere slum, on the outskirts of Bujumbura, Burundi's capital. Near his home is a sprawling garbage dump, where most locals spend the day rummaging through the rubbish, looking for recyclable material to sell.
Barefoot children brave the smoke from the burning plastics and scavenge for food. Some children from the community have run away from home in search of a better life on the streets of Bujumbura.
Jean feels lucky that his mother, Alima, did not ask him to work when she could not pay his school expenses. He stayed home with his three brothers.
Alima tilled people's farms for a living after her husband died; she could only afford to feed her family one meal per day.
"I know the value of education," says Alima. "I hope to keep my children in school because it gives them a chance to escape poverty."
Burundi is one of the five poorest countries in the world according to the Human Development Index (UNDP 2020). More than two-thirds of Burundian children live in poverty. The education rate is low -- out of 5.1 million school-age children and adolescents, approximately 1.9 million are not in school. Although schooling in Burundi is free, school uniforms and supplies are not.
Image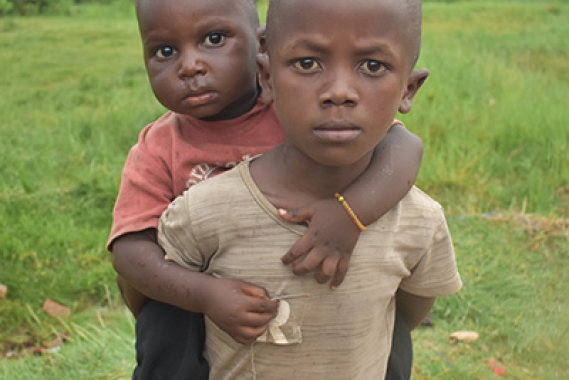 Support for Jean's family
To address the hardship situation Alima faced, the family was enlisted to join the SOS Children's Village family strengthening program in 2018. The service works toward the well-being of children and their families. With support, families stay together and children can grow up in supportive families; they access education, nutrition, and healthcare. 
In order for Jean and his brothers to return to school, they received the school uniform, stationery, school bags, and the other supplies they needed.
To earn a living, Alima used the grant she received to buy innerwear across the border, in the Democratic Republic of Congo (DRC), which she sold in Bujumbura.
"With the money I made, I was able to feed my children nutritious meals three times a day, and they carried snacks to school. We were very happy and felt alive," says Alima.
Impacts of COVID
She was planning to move her children to a better neighbourhood, when COVID-19 struck in March 2020. The border closed to curb the spread of the virus, resulting in loss of work for traders like Alima.
"My small trade was flourishing," she says, "but the closure of the Burundian-Congolese border seriously hurt our lives. I could no longer get supplies from DRC because I could not afford to pay for the costly COVID tests required before crossing the border."
Although the COVID-19 burden on Burundi remained low, drastic measures to mitigate the disease has had a great impact on people's lives, their income, and livelihoods.
With the collapse of his mother's business, Jean began to see the change on his plate. "I did not understand what was going on in our family," he says. "At one point, I asked mum why we no longer ate fresh fish and why she forced us to eat food we did not like. I also asked her why my brothers and I no longer had tea in the morning before going to school."
Alima says Jean also worried that the virus would prevent him from going to school, but she reassured him.
"I know he is afraid of ending up in the dumpsite. That is always in his mind. So, I told him not to be afraid. Even when I did not have money, he would continue his studies because FSP (family strengthening program) was supporting us."
Looking ahead with hope
School for Jean is a place of refuge where he can dream about his own life and future. "I will make a lot of money when I become a pilot one day," he says, "so I can help children from poor families. I feel bad for the children in my neighbourhood who cannot go to school – they cannot achieve their dreams."
FSP has supported Alima to start a new business selling groceries. With the borders now open, her intention is to return to her old business of selling wears after raising enough capital.
*Names changed for privacy reasons.