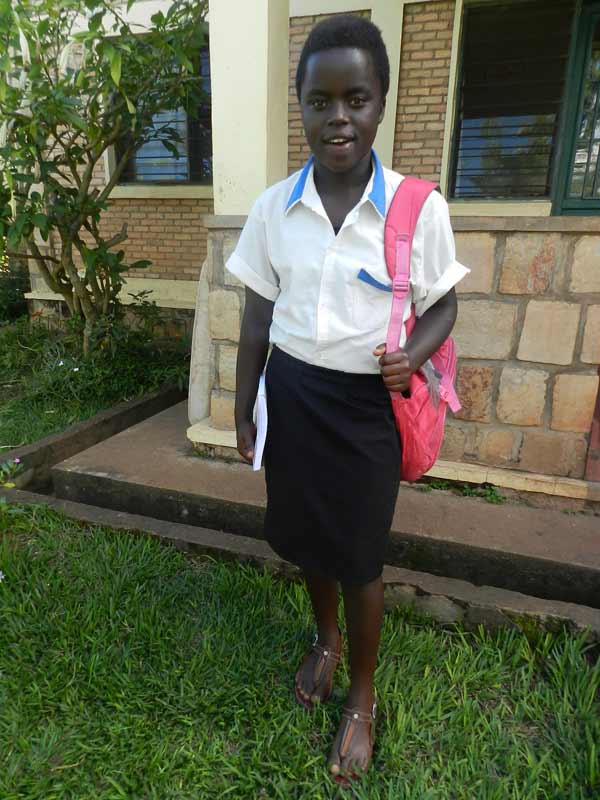 How your support is transforming young lives.
SOS Children's Villages believes that no child should grow up alone. Our first priority is to support families at risk to prevent family breakdown, so that children do not need alternative care. This is carried out through our Family Strengthening Program. In cases where a child cannot be cared for by their family of origin, we provide quality alternative family-based care in the form of Children's Villages, where children grow up as part of an SOS family.
Mirielle* is one of the children that lives in the SOS Children's Village in Rutana.
The Ripple Effect
Mirielle's* mother was an orphan who unwillingly got pregnant as soon as she finished primary school. When her young mother abandoned her, Mirielle's aged and disabled grandmother strived to care for the baby, while herself dealing with the pain of her daughter leaving. "I think that my daughter left the baby because life was very difficult for all of us. She left without saying good bye and we have not heard of her ever since," she says.
When caring for her granddaughter got to be more than she could handle, a tender SOS mother, received Mirielle at the SOS Children's Village in Rutana, and was able to give the baby the affection and care that she needed.
"One Sunday in a light rain, I saw a lady arriving with three children, among them was baby Mirielle. This baby had a bloated stomach, yellowish hair, swollen cheeks and was crying at any moment", the SOS mother recalls of her first meeting Mirielle. "I clothed her, I gave her milk and food but she could hardly eat."
The following day, the SOS mother brought Mirielle to the medical centre for a consultation. The baby was suffering from intestinal parasites and malnutrition. Slowly Mirielle recovered, thanks to the treatment and care that she received. As her health improved, she enjoyed playing with her SOS siblings.
Today, Mirielle is a healthy and happy young woman. At school, she exudes confidence, and clearly expresses her points of view during group discussions. While at home, she is quick to offer to help her SOS mother out with household chores, and she already knows how to prepare food –a task that she especially enjoys.
When asked about her plans for the future, it is clear to see that the care Mirielle has received through SOS has made an impact. She says, "When I finish high school studies, I intend to graduate in child care studies. After that, I will join an organization working with children."
*The name has been changed to protect the privacy of the child.