Country Profile: Costa Rica
Image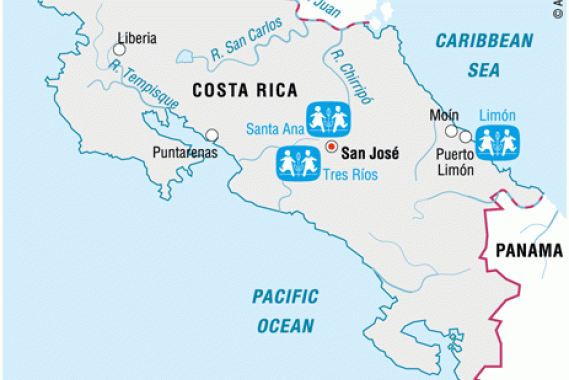 SOS Children's Villages Costa Rica has been in place since 1975. At present, Costa Rica is one of the more economically stable countries in Central America: however, challenges for children are still widespread.
Over 36,000 children in Costa Rica are orphans, all of whom are at risk of involvement in child prostitution, drug abuse and gang violence.
SOS Children's Villages is supporting Costa Rican children, young people and families in four different locations by providing day-care, education, medical services and vocational training, sports facilities and playgrounds.
In 2014, SOS Children's Villages Costa Rica received extra government funding, which was invested in the SOS Family houses.
The government has also been focusing on child protection and most recently, attention to teenage pregnancies, which account for 22% of the births in the country. This opens up possibilities for SOS Costa Rica to also expand services relating to youth services and child abandonment, as teenage pregnancies often leads to abandonment of an infant. 
SOS Children's Villages Tres Rios, 2014
In the biggest SOS Village in Tres Rios, 11 children were welcomed during 2014; all have adjusted well.
With great pride, 15 young people from the village successfully completed a full year of English classes. In this instance, there was a remarkable dedication from the youths to become certified as bilingual people. This project also helped us to strengthen the adolescents' study habits, responsibility and commitment to personal goals.
The course culminated in an English play performance that was an unforgettable experience for the youth as they performed in front of over 150 people. The play enabled them to overcome many individual fears, which strengthened their faith in themselves and what they can achieve.
Through the support of public institutions and donations from private enterprise, the SOS Village was able to provide a computer to each SOS house in the village as well as to complete the implementation of a laboratory with 10 computers with access to internet for the use of the children and young people.
From here, SOS Tres Rios was also able to conduct two training courses on the use of digital technologies. For one of the courses, 7 children with special educational needs were trained on the use of basic computer programs. For the second course a group of 15 children and adolescents participated were provided the technical knowledge to make appropriate use of information technologies that eventually all children and adolescents in the village will be able to gain.
Learn more about SOS Children's Villages in Costa Rica or click here to sponsor a child in Costa Rica.