Cyclist's Cross-Canada journey for SOS Children's Villages concludes in Ottawa
Thursday, November 15, 2012
Image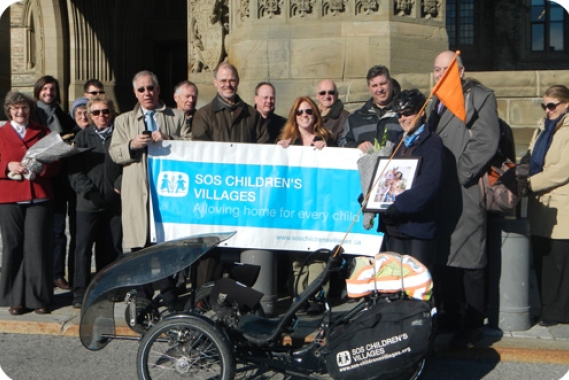 A young woman's bicycle journey circling Canada while promoting SOS Children's Villages work with abandoned and orphaned children finally reaches its conclusion in Ottawa in front of the Peace Tower on Parliament Hill.
Tana Silverland has braved the elements and the Canadian terrain as she rode throughout Canada raising funds and awareness for SOS Children's Villages. Her two year journey across the country began in British Columbia in 2010. Tana criss-crossed the western provinces, then went through Atlantic Canada before coming to her journey's end in Ottawa.
Riding a recumbent trike nicknamed "Ranger", Silverland visited hundreds of small communities across Canada and met with service clubs, churches and social groups and telling them about SOS Children's Villages, raising $40,000 for the charity's work with orphaned children in 133 countries.
Silverland grew up in the UK and made the journey shortly after emigrating to Canada. The appeal of SOS Children's Villages for Tana Silverland was simple, "Unlike many charities that work with orphans, SOS Children's Villages builds families and communities for the children in its care, providing not just a roof over their head, but stable and loving relationships and someone to call 'Mum'. I'm doing what I can to make sure that all children in the world get the same positive start in life."
Tana finished her 22,000 km journey at 11 a.m. on November 15, 2012 in front of the Peace Tower on Parliament Hill in Ottawa. She was greeted by Senator Mac Harb, her parents, supporters and staff of SOS Children's Villages Canada.
"Tana's ride has been incredible," says SOS Children's Villages President and CEO, Boyd McBride, "she has connected thousands of Canadians with SOS Children's Villages and the children at risk whom SOS serves—in the process of getting ordinary citizens to look outside themselves to the needs of others abroad." Her expedition concluded, appropriately, on November 15, National Philanthropy Day.