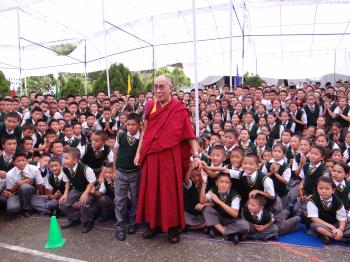 The Dalai Lama at the SOS Children's Village in Mussoorie, India
The 14th Dalai Lama, Head of State and spiritual leader of the Tibetan people, was awarded the Nobel Peace Prize in 1989 for his tireless efforts to peacefully resolve the "Tibetan Issue". Since the SOS Children's Villages for Tibetans first opened, the children and care givers have been deeply attached to His Holiness.
He lives in in Indian exile, but his personal commitment has led to the construction of a number of Tibetan SOS Children's Village facilities. The relationship between Hermann Gmeiner and the Dalai Lama grew into friendship, which has been continued by Helmut Kutin until today.
The Dalai Lama about SOS Children's Villages
"The splendid work done by SOS Children's Villages is charity where deeds speak louder than words. The revolutionary idea and the general concept developed by Hermann Gmeiner for providing orphaned and abandoned children with a new family and a permanent home has had a great influence on child welfare world-wide, and SOS Children's Villages have become a model on every continent.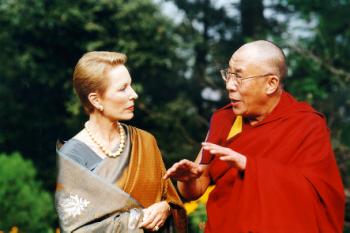 SOS Children's Villages shows that it is possible to create a community of brothers and sisters comprising children of all races, creeds and nationalities. The ties that develop and hold these communities together and form the basis of their upbringing is love.
SOS Children's Villages practises global responsibility in a world of crisis and as such is seen as a torch of hope - hope above all that, with the right frame of mind and a committed effort, peace and happiness will triumph.
SOS Children's Villages has a special place in the hearts of hundreds of Tibetan children. Thanks to the kindness and support of SOS Children's Villages hundreds of Tibetan orphans and children in need have been given a home, loving care and a good education in various villages, schools and youth houses.
The help we have received from SOS Children's Villages has enabled us to raise our children in keeping with the traditional values of Tibetan culture and to prepare them for a life in which they will be able to find their place in modern society and make their own contribution to this world.
SOS Children's Villages is an outstanding humanitarian movement, not only for Tibetans but for all peoples. It is a work of love that knows no borders, no racial or ideological differences, only human beings. Today everyone is looking for happiness, and no-one wants to suffer. Yet ours is an unhealthy age; there are so many crises. That is why it is important to learn to feel for others and to practise sympathy.
That is best done as Hermann Gmeiner did it - with a big heart for children.