Desmond Tutu is considered one of the leading figures in the effort to overcome Apartheid in South Africa. In 1984, he was awarded the Nobel Peace Price for his commitment. Besides former President Nelson Mandela, Tutu is among the most prominent supporters of SOS Children's Villages in South Africa.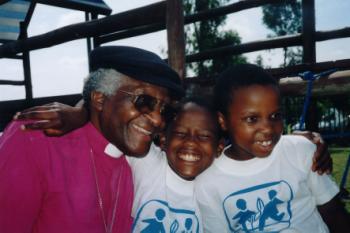 In an interview, former Archbishop Desmond Tutu talks about the importance of the Football World Cup and the SOS Children's Villages for Africa (August 2005).

Your Excellency, after Germany 2006, how important do you consider the Football World Cup to take place in South Africa for your country?
Desmond Tutu: This is an unbelievable achievement. As you might know, we have won the Rugby World Cup in 1995. It did wonders back then. Success in sports connected the people in a way that only a few politicians have been able to achieve in the past. We are looking forward to similar results in the context of the Football World Cup 2010. The Football World Cup makes South Africans feel more self-confident. This is the first time a sports competition of such size is taking place on African ground - this is not only a big success for South Africa, but an achievement for the entire African continent. Moreover, we are also confident that the World Cup will have wonderful effects on our economy and will produce jobs, and that many people will pay us a visit.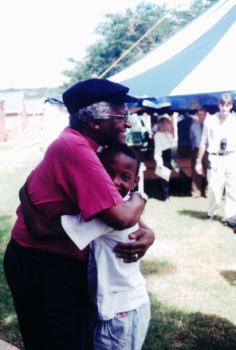 Are you a soccer fan yourself?
Desmond Tutu: I am a fan of many sports disciplines - soccer, rugby, cricket, tennis. And I am very good at sports - from the safety of my couch.

A few years ago you inaugurated SOS Children's Village Mamelodi. In Rustenburg, the foundation stone for a new SOS Children's Village has just been laid. Do you consider this a first sign of the influence the Football World Cup can have on a country?
Desmond Tutu: I do, of course, hope that this marks the beginning of a favourable development. I am extremely happy about the fact that there will be a new SOS Children's Village in Rustenburg. Here, we intensively suffer from the consequences of the AIDS epidemic. There are many AIDS orphans. This village is a way to fight the consequences of the epidemic. I am convinced that this is a good role model and will also encourage others to invest here even more.

Do you have any expectations in relation to the new SOS Children's Village?
Desmond Tutu: I hope that it will grow and continue to get bigger. SOS Children's Villages is a first-rate organisation and I very much admire everybody working there. You really do a fantastic job, and I wish you a lot of success - you deserve it.

Do you have a personal wish for the abandoned children in South Africa and for the rest of the world?
Desmond Tutu: I wish for a peaceful world. I wish we would not spend so much money - such an obscene amount of money - anymore on defence. Only a fraction of that money would do to provide children with clean water and sufficient amounts of food, a home and medical assistance. I wish for peace, especially for peace, and that we all commit ourselves to making this world friendlier for children.