Displaced in your own country - #putchildrenfirst
Image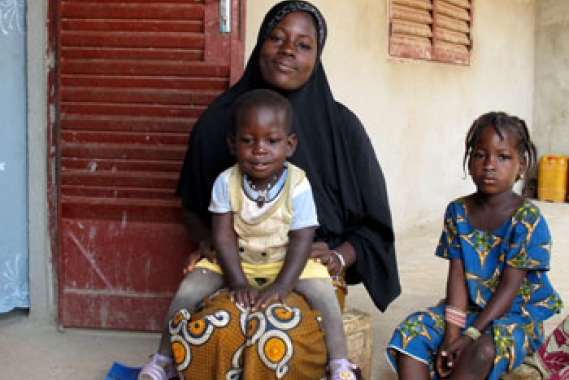 In the village of Sakoura in central Mali, Gnorguel Gambi and his family received nineteen unexpected houseguests. In April 2012, shortly after pro-independence Tuareg fighters belonging to the Movement for the Liberation of Azawad (MNLA) took control of vast swathes of northern Mali, unaccompanied children and teenagers began turning up on Gambi's doorstep. The sons and daughters of friends of the family, most of them travelled by bus or by truck from the town of Douenzta, which lies 260 km to the north.
At Gnorguel's home, they all slept on shared mats and mattresses in a spare room, or under the stars in the large courtyard. "They arrived here with nothing, just the clothes they were wearing," he said. "I am managing to provide them with meals and give them a safe place to sleep, but last year's harvest was bad and I don't have many resources." He added that he would probably not have been able to help the young people at all if he hadn't received seeds and food from SOS Children's Villages the previous year.
Families like his who were already vulnerable following the 2011-2012 food security crisis in central Mali were pushed to their limits due to the massive influx of displaced families from the north. According to the United Nations Office for the Coordination of Humanitarian Affairs (OCHA), by February 2013, about 35,000 people had fled their homes since the onset of the French and African intervention began in January. A total of 227,000 people were internally displaced in Mali and about 4.3 million required humanitarian assistance.
Many heads of households needed to take out loans to look after their displaced visitors, but getting the loans was not easy. Banks had closed for a short period in the wake of the coup d'état that ousted former President Amadou Toumani Touré, and the cost of living increased at the same time. The price of rice alone shot from 300 FCFA (0.6 USD) per kilogram to 400 FCFA from 2012 to 2013.
Even for families who could afford food, it was in short supply because of road blockages. Food markets in towns such as Sevare and Mopti, which both narrowly escaped invasion by Islamist fighters and which were sheltering about 23,000 displaced people, closed unexpectedly for several days when the military intervention began.
Ibrahima Bane, director of SOS Children's Villages in Mali, warns that the "consequences of war stretch into the long-term. War doesn't end when the last shot is fired. The most important thing at the moment is that families have the resources to cope as Mali recovers its territorial integrity and its secularism. Then we'll have to address the future; children experience the same reality as their parents. We need to be in place to help families cope with whatever comes their way during this difficult time."
For more of our Put Children First campaign, please follow our Twitter and Facebook. Keep others in the loop by using the hashtag #putchildrenfirst!

Canadian's wishing to support SOS Children's Villages are encouraged to sponsor a child, sponsor a village or to make a direct donation. Your support ensures that SOS Children's Villages can continue to provide a safe and loving home to orphan and abandoned children worldwide.