Ebola survivors help care for abandoned children
Thursday, January 15, 2015
Image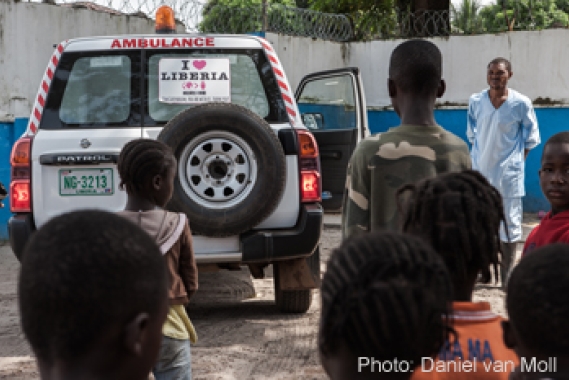 "Every morning when the Ebola team came to remove the dead bodies around me, I waited for the time that I would die and be free from such pain," says Salome Tomah, an Ebola survivor in Liberia.
Salome is now a caregiver at the SOS Children's Villages Liberia interim care centre in Monrovia. The centre works with children orphaned or abandoned as a result of Ebola. While Salome was suffering at the Ebola Treatment Unit, her 14-year-old daughter was shunned and rejected by neighbours, friends and relatives.
"They told her to leave the house where I had been infected with the virus. So my daughter was just roaming the streets of Monrovia," explains Salome.
Salome was treated by a team of committed doctors and she survived Ebola. Shortly before Christmas she was reunited with her daughter and father. Her husband fled and has not returned.
Today, Salome is one of seven Ebola survivors working at the interim care centre which is operated by the Liberian Ministry of Health and Social Welfare and supported by SOS Children's Villages Liberia, in collaboration with other non-governmental organizations.  The centre cares for orphaned children under the age of five whose caregivers have passed away in the outbreak.
Ebola remains a growing concern for countries in West Africa. According to the World Health Organization and the Centre for Disease Control there were 87 deaths and 253 new infections between December 28, 2014 and January 3, 2015. Liberia has seen more than 8,000 cases in the outbreak and almost 3,500 deaths have been recorded.

Canadian's wishing to support SOS Children's Villages are encouraged to sponsor a child, sponsor a village or to make a direct donation. Your support ensures that SOS Children's Villages can continue to provide a safe and loving home to orphan and abandoned children worldwide.