SOS relies on the kindness and generosity of Canadians to be able to provide a home for the most vulnerable children around the world.
By becoming a child sponsor you are helping an individual child in need.
(You will receive a Canadian charitable tax receipt)
SOS Children's Villages in Santa Tecla
Our work in Santa Tecla began in 1982. Currently, four SOS families can provide a loving home for up to 54 children who are no longer able to live with their parents. In each family, the children live with their brothers and sisters, affectionately cared for by their SOS mother.
When young people from the children's village are ready to leave their family in order to pursue further education or vocational training, the SOS Youth Programme provides shared accommodation. The young people live together here and, with the support of qualified counsellors, they can learn to take responsibility, plan their future and prepare for independent adult life.
Media
Image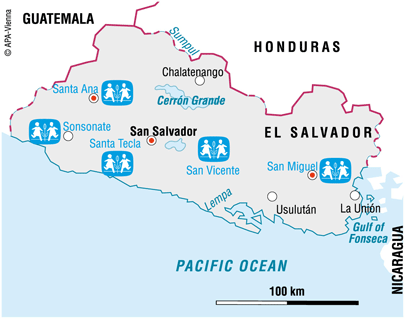 20 years after the peace treaty, the daily homicide rate in El Salvador is higher than during the civil war
Santa Tecla is the capital of the department of La Libertad in central El Salvador. The city has a population of over 120,000. Almost 90 per cent of the population live in urban areas, and 40 per cent are migrants from other departments. 
The growing presence of the Salvatrucha and Mara 18 gangs in Santa Tecla has led to a stark increase in violence. Certain neighbourhoods, such as Guadalupe I, are now completely inaccessible to anyone who doesn't have gang connections. These gangs, or "Maras", are transnationally organised, financed through drug trafficking and arms trading, and have very strict codes of conduct.
Gang members include children and young people from rural areas who have migrated to the city, and those from impoverished neighbourhoods where urban unemployment, especially amongst young people, continues to be a great problem. Often, these young people come from broken homes and are drawn to the solidarity offered by being part of a Mara. When a young person joins a gang, on average he or she lives for another three years. According to the Organisation of American States, nine out of ten murders in Central America are committed against young people, many of them in the course of gang wars.
Children and young people need to be offered alternatives and hope for the future
The safe and healthy development of children growing up in these circumstances is endangered not only by difficult economic conditions, but also by a culture of violence that puts them at risk of losing family members or becoming involved in criminal activities themselves. Parents, especially when they are young or single mothers, need support so that they do not lose hope and can provide a loving home for their family.
In the 30 years that SOS Children's Villages has been working in Santa Tecla, the area has changed a great deal, from a mainly agricultural coffee-growing region, to an urban environment that has become increasingly marked by crime and violence since the end of the civil war. We have therefore had to adjust our work here to the changing circumstances, for example by cooperating with psychologists to provide expert support to children who have had traumatic experiences.
Our Impact
Image

The SOS Children's Village in El Salvador provides loving homes to orphaned and abandoned children

1

VILLAGES

37

Orphaned and Abandoned Children

Image

The SOS Youth Facilities in El Salvador provides youth with a loving environment where they learn to transition into independent living and to expand their education

2

YOUTH FACILITIES

15

Youths in our Care
Our Impact

VILLAGES
The SOS Children's Village in El Salvador provides loving homes to orphaned and abandoned children
37
Orphaned and Abandoned Children

YOUTH FACILITIES
The SOS Youth Facilities in El Salvador provides youth with a loving environment where they learn to transition into independent living and to expand their education