Family Strengthening Program helps entire village develop after Tsunami
Monday, December 29, 2014
Image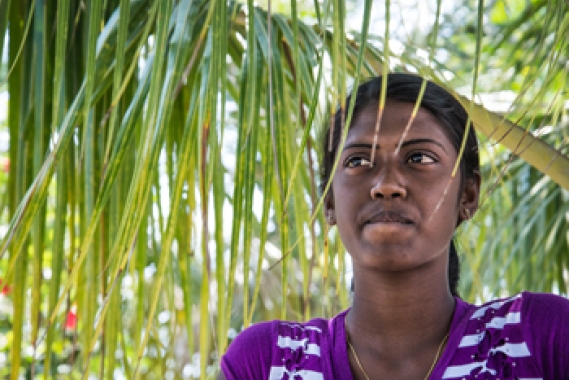 A decade later, young beneficiaries whose lives were changed beyond their wildest expectations, share their experiences of a challenging journey.
For SOS, rebuilding lives after the devastation wrought by the Tsunami meant much more than rebuilding houses and distributing aid. It also meant starting Family Strengthening Programs, SOS Kindergartens and social centers, encouraging sports and above all, re-kindling a sense of confidence.
"Before it hit us that December morning, we didn't know what Tsunami meant or even how to pronounce the word. We thought it was the name of a person!" laughs 32-year-old Kamalraj, a government school teacher in Komari, Sri Lanka.
Kamalraj was among the first batch of young volunteers—his brother Babu and brother-in-law Padmaraj along with him—to help SOS Deputy Director Divakar in relief operations; working out of temporary sheds, relaying peoples' needs. Sitting in the spacious house given to his family by SOS, Kamalraj explains the various initiatives launched by SOS a decade ago, complete with its immediate and long-term impact.
"Children and youngsters who were traumatized the most in the disaster got relief in the activities SOS organized for them—especially with the kindergarten center and sports tournaments. English classes were held by an American volunteer. Earlier no one knew how to use a computer here, SOS formed a computer center to teach them; they also gave children sports equipment so we formed sports clubs and trained youngsters," he explains.
Kamalraj and his family lived in a clay house before the devastation of the Tsunami. Now, he lives with his family in homes built by SOS Children's Villages. His younger sister, Madhivadhani, explains that having their homes is one less worry for the family.  "Having a home as allowed us to concentrate on our studies—my eldest brother went abroad. Kamalraj became a teacher, my brother Babu is a Government employee and I too passed my A levels and work for the Government. None of this would have been possible without SOS intervention. It helped our entire village develop."
Her husband Padmaraj, now a senior co-worker at SOS, Jaffna, traces his own progress from volunteer to employee with visible pride. "We were a good team of volunteers at that time, ten years ago, acting as a bridge between the community and SOS, conveying requests. After the Tsunami people felt hopeless about the future; SOS changed that with two things—a safe, strong structure that was their new house and the turning point which was the initial money distributed. Even an amount of Rs 10,000 was enough for people who wanted to be able to complete a task—a net to go back to the sea, a small saw—the idea was to get back on your feet. As for me, I travelled from being a victim to a volunteer to an account assistant and now, a senior co- worker" says Padmaraj emotionally.
Since the Tsunami struck in 2004, SOS Children's Villages has built 677 permanent homes in Komari, complete with proper drains, wells, trees and plants, gravel roads, a kindergarten school, a play-ground and a community social center.

Canadian's wishing to support SOS Children's Villages are encouraged to sponsor a child, sponsor a village or to make a direct donation. Your support ensures that SOS Children's Villages can continue to provide a safe and loving home to orphan and abandoned children worldwide.