Take Action 2016 is a Canadian youth-led campaign that engages young people on the United Nations 17 universal Sustainable Development Goals (SDGs). This campaign builds on the momentum of a successful pilot project in 2015 where over 500 young people participated and shared their perspectives on how to achieve sustainable development in the world.
Volunteer Job Posting: Youth Ambassadors
SOS Children's Villages Canada is looking for 20 Youth Ambassadors (aged 16 – 24) with a passion for advancing the 2030 Agenda for Sustainable Development for Take Action 2016.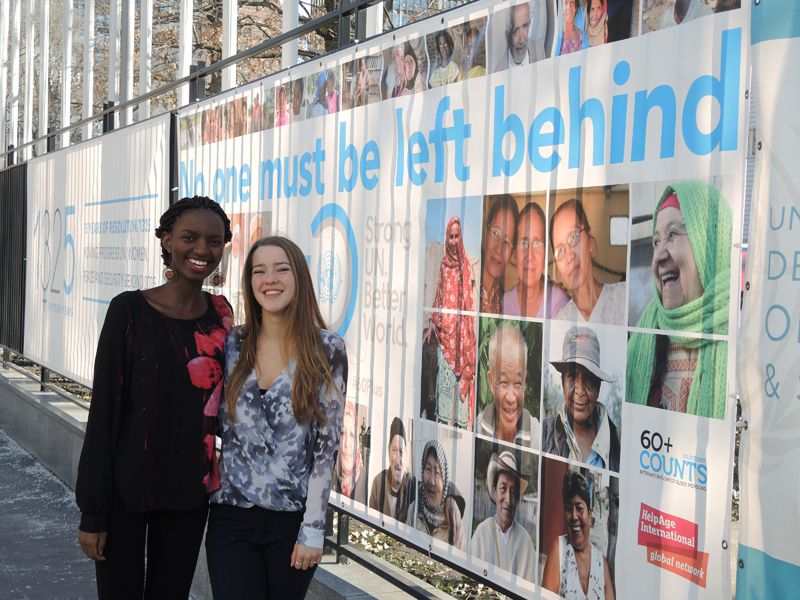 Mikka Zeisig and Divine Usabase at the ECOSOC Youth Forum, UN Headquarters
Take Action Youth Ambassadors will become highly informed about the SDGs and take an active role in raising awareness of SOS Children's Villages and the shared responsibility to Take Action. We wholeheartedly support the SDGs goal that "no one should be left behind" and encourage all the diverse voices of youth to apply.
Your role as a Youth Ambassador has two components: the first is your role with the Youth Committee itself, helping to design the program and activities, and the second component relates to being a Peer Educator and delivering presentations on the SDGs in your schools and communities and engaging your fellow youth in creating posters and short video pieces that express their views.
Also throughout the year you will have the opportunity to act as an ambassador for the campaign: attending events, speaking to the media and helping to spread the word through social media.
What's next? Steps on how to become involved with Take Action 2016.
What's next?
If you are interested in taking part in this opportunity, fill out this form and send it in an email to Jasmin at [email protected]. We encourage everyone to apply! Once we receive your application form, we will schedule an orientation session with you.
About Take Action and the Sustainable Development Goals
January 2016 saw the new Sustainable Development Goals come into force. If these Goals are to transform the lives of children, youth, their communities and countries, young people must be a part of it.
The UN Secretary General's call to young people "to lead and to act with courage" is a charge that Canadian young people have accepted.
SOS Children's Villages Canada's response to this call to action is the Take Action project. Take Action was created by former SOS child Divine Usabase and SOS Children's Villages Canada. It acts as an entry point for understanding the SDGs and is a platform for young people to share their views through a multi-media competition. See highlights form Take Action Poster Competition here.
Over 500 young people were a part of Take Action 2015 and their voices were heard in the Canadian Senate at Global Affairs Canada and at the United Nations. Click here for 2015 highlights.