Giving Hope When All is Lost
Wednesday, April 27, 2016
Image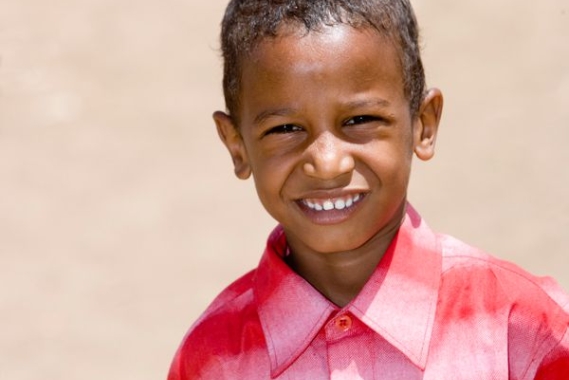 Suleyman was a sad boy when he joined his SOS family in Khartoum, the capital city of Sudan. He was afraid, withdrawn. Suleyman would isolate himself and watch from a safe distance as his SOS brothers and sisters played. When he could not find what belonged to him, Suleyman would turn violent and hit them.
"I encouraged Suleyman to treat his SOS brothers and sisters with care and kindness," says Fawziya, his SOS mother.  "I taught him how to deal with his anger, his fears and insecurities in an acceptable way. I explained to him that expressing himself was better and important in forming relationships," she says.
But Suleyman's distrust for people was overpowering. He was not interested in forming bonds with anyone. The adult he had once depended on for care, love and support had violated that trust.
"I was patient and gentle with him. I did all I could to make him feel safe and a part of the family. I taught him how to share and interact with his SOS brothers and sisters. I would urge them to share their meals with each other, to play group games, and I would assign each child the responsibility to care for others, all in the hope that Suleyman would look and learn," says Fawziya. "When I found that I was making little headway I sought professional help in a psychologist."
Suleyman was two years old when his biological mother left him and his baby brother with a family friend named Sarah. She never returned. Sarah was suffering from depression. She neglected the children until the baby died. Suleyman was always beaten up; sometimes she left him without food. One day she poured hot water on him.
When Suleyman was five years old he could no longer endure the hostile conditions, so he ran away to the streets. During the day he scavenged for food in garbage dumps and at night he slept on the cold hard floor on the streets.  This is where the team from SOS Children's Village Sudan found him in 2013. He had survived the hardships associated with street life for one year and developed a negative outlook on the world.
At six year old Suleyman had never been to school, and despite being above age he was placed in the SOS Kindergarten. He struggled at first. Everything was new to him. "It was difficult for Suleyman to sit in his chair for more than five minutes. His attention span was also very short. He didn't like interacting with his classmates and he was not kind at all. He was always on alert and ready to fight," says Monica* his kindergarten teacher. "I focused on teaching him how to use his words instead of his fist."
The nurturing environment at the SOS program has slowly helped Suleyman realize that he is no longer in danger of rejection, and that he is well protected from harm. These days he takes the lead to welcome new kids in his class, making them feel comfortable. And although he struggles with school work, Suleyman has become a child again. He is now eight years old and in grade one.
Suleyman says he is happy to have a family and a home that he treasures.
"The SOS Village is fun to live in and I have a lot of friends here," says Suleyman. "My family is nice and I feel safe with them because I love them and they love me. When I grow up I want to be a policeman so I can help and protect people, and make sure they are safe."
*Name and image changed for privacy reasons.