Growing Up Fast: Anh's Story - #putchildrenfirst
Wednesday, October 1, 2014
Image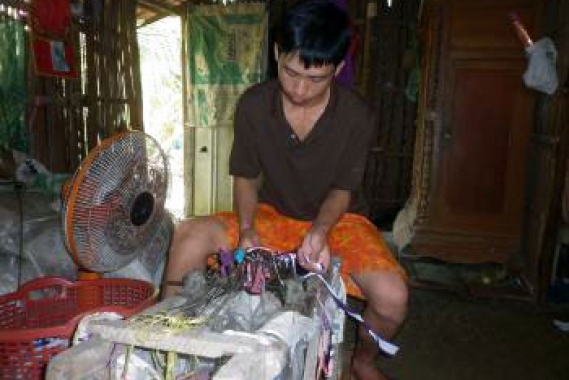 Anh Dung was four years old when his mother died and his father left him to be brought up by his grandparents. His closest bond is with his 61-year-old grandmother, who would go into the fields every day and wait for someone to give her work so that she could support her young grandson. As Anh grew up, though, and after his grandfather died, he could tell that the work was too strenuous for her. "I needed to help my grandmother," he says. "Her health was not good because she was working too hard."
Anh is sixteen, from the village of Phong Nam in Vietnam. He is in grade 11 at the Nguyen Thi Dinh high school, near his house, and studies hard. When he was younger, he remembers, "my friends often asked me why I spoke so little at school. I did not know how to answer them. I was ashamed of my situation. I was too poor and I did not have time or money to join them in extracurricular activities after class."
When he was fourteen, Anh found part-time work weaving pot-holder cloth. He began to spend three hours working every night, for which he was paid the equivalent of 75 cents US. Although it took up most of his free time, he says, "I felt relieved that I could help my grandmother somehow."
According to Vietnamese labour law, children under 15 are not allowed to work. However, because their families are poor, most of the children in Phong Nam help their families with housework, farming, feeding poultry, and other jobs. Some of those whose parents are poor or do not have stable jobs do part-time work every day, like Anh.
Through its Family Strengthening Programs, SOS is giving workshops on labour law, child protection policies, and child rights. Mr. Long, and educator at SOS Children's Village Da Lat, reports, "The workshops we organized on child rights in different communes have shown positive results. We have noticed that almost all families have now understood the implications of child labour." He notes that parents do not want their children to work, but have been forced by their impoverished circumstances to let them do so.
To help, SOS provides the families with 15 USD a month. It may not seem like much, but Anh says, "This money helps us a lot. Before, I was weaving cloth every night but now I only work on weekends. So now I can spend more time studying." He needs the time, so that he can prepare for his upcoming university entrance exams. Her biggest wish, he confides, "is to study in the university and then get a stable job. Then I would be able to take care of my dearest grandmother properly. Whenever I see her face, I know that I need to try harder."
For more of our Put Children First campaign, please follow our Twitter and Facebook. Keep others in the loop by using the hashtag #putchildrenfirst!

Canadian's wishing to support SOS Children's Villages are encouraged to sponsor a child, sponsor a village or to make a direct donation. Your support ensures that SOS Children's Villages can continue to provide a safe and loving home to orphan and abandoned children worldwide.