SOS relies on the kindness and generosity of Canadians to be able to provide a home for the most vulnerable children around the world.
By becoming a child sponsor you are helping an individual child in need.
(You will receive a Canadian charitable tax receipt)
SOS Children's Villages in Retalhuleu
SOS Children's Villages began its work in Retalhuleu in 1980. Today, our social centres here offer a family strengthening programme, which aims to alleviate hardship in the community in a holistic and sustainable manner. Our services include day-care and a childminding programme, which allow working parents or single mothers to leave their children in safe hands while they are out making a living. 
The social centres also offer training workshops for adults on topics relating to childhood, personal development, and vocational skills such as cookery and jewellery making. Counselling and psychological support are also available in the children's village, for those who have had traumatic experiences or are currently experiencing difficulties.
Media
Image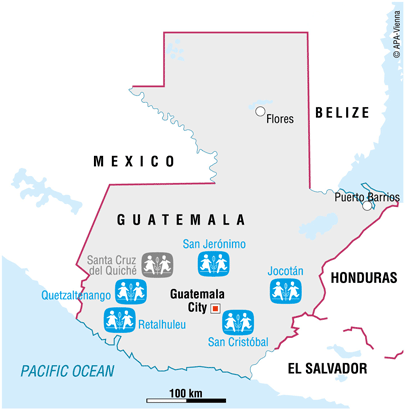 For children in Retalhuleu who are no longer able to live with their parents, 15 SOS families can provide a loving home for up to 98 children. In each family, they live with their brothers and sisters and are affectionately cared for by their SOS mother. The children attend local schools and are therefore very much integrated into the local community. Children who have had traumatic experiences prior to coming to live with us receive support, both from staff in the village and psychologists.
When young people from the children's village are ready to leave their family in order to pursue further education or vocational training, the SOS Youth Programme provides shared accommodation. With the support of qualified counsellors, the young people learn to take responsibility, plan their future and prepare for independent adult life.
The rural indigenous population, especially the women, are still largely excluded from socioeconomic processes
Retalhuleu, capital of the homonymous department, is located on the Pacific coast of Guatemala. Retalhuleu Department has a population of approximately 300,000 inhabitants. Its economy is based on industry, agriculture and the production of artisanal goods.
The distribution of wealth in Guatemala continues to be extremely unequal, with the top 20 per cent of the population consuming over 50 per cent, and the poorest 20 per cent consuming less than 5 per cent. While the rural population makes up almost two thirds of Guatemala's population, it accounts for less than a third of income and consumption. Poverty rates are some of the highest in Latin America, especially amongst the indigenous rural population and women.
The immediate and the long-term effects of poverty
Children from the poorest families are likely to have to drop out of school because often families cannot survive without the financial contribution of their children, nor can they afford school supplies such as books and school uniforms.
Child labour continues to be a very severe and prominent problem in the department. In rural Retalhuleu many children – sometimes as young as five or six years of age – are employed in stone quarries. These conditions are very dangerous for children and can be extremely detrimental to their health: many suffer from respiratory or skin diseases and some even go blind or lose limbs in accidents. The isolated location of the quarries also means that children who work here usually do not attend school or have access to medical care.
When children are deprived of a nurturing and safe childhood and an education, their chances in later life are jeopardised. These children are made to fend for themselves at far too young an age, as often their parents are unable to give them the care and attention they need. This can lead to developmental and psychological problems, which continue to affect children throughout their adult lives.
Our Impact
Image

SOS Social Centres in Guatemala aim is to help families, in particular women and children, living in communities neighbouring the SOS Children's Villages to gradually escape from poverty, and to help young people become self-reliant.

2

SOCIAL CENTRES

256

Beneficiaries

Image

The SOS Children's Village in Guatemala provides loving homes to orphaned and abandoned children

1

VILLAGES

80

Orphaned and Abandoned Children

Image

The SOS Youth Facilities in Guatemala provides youth with a loving environment where they learn to transition into independent living and to expand their education

1

YOUTH FACILITIES

31

Youths in our Care
Our Impact

SOCIAL CENTRES
SOS Social Centres in Guatemala aim is to help families, in particular women and children, living in communities neighbouring the SOS Children's Villages to gradually escape from poverty, and to help young people become self-reliant.

VILLAGES
The SOS Children's Village in Guatemala provides loving homes to orphaned and abandoned children
80
Orphaned and Abandoned Children

YOUTH FACILITIES
The SOS Youth Facilities in Guatemala provides youth with a loving environment where they learn to transition into independent living and to expand their education