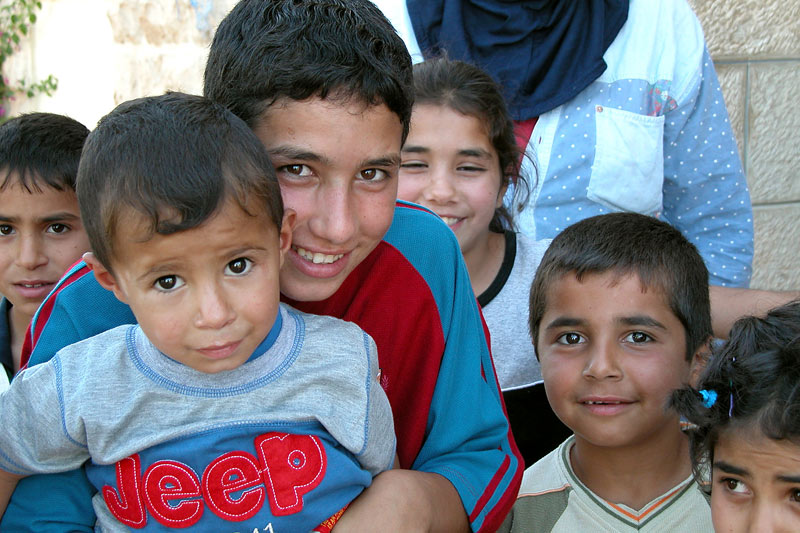 Rula is the mother of four children. Her husband, Mahmud, used to work as a construction worker for Palestinian companies in the Janata area.  In 2009 while working, Mahmud fell and injured, his back, leaving him unable to work and provide for his wife and children. In addition, Mahmud could no longer pay for the debts that had built up while building a house for his family.
Rula was left to provide for the family on her own, but being unemployed, this was impossible.  To make matters worse, following Mahmud's fall, the local authorities demolished the house they had worked hard to build. The family had no work, no money, no house and children that need providing for. 
The dire situation plunged Rula into a deep depression.  She tried to commit suicide several times and her family took her in for two or three months at a time to care for her.  Her children were left to fend for themselves.
The kids had no food and no one to care for them.  They dropped out of school and started working in the street. It was at this point that SOS Children's Villages learned of Rula's story and entered the family into the Family Strengthening Program.
After ensuring that the children returned to school, SOS Children's Villages began to work with Rula. SOS staff connected her to a psychological center where she joined a support group and began to participate in activities with others.  In the year SOS has worked with the family, Rula's mental health has seen a dramatic improvement. She is no longer depressed, no longer tries to commit suicide and her enthusiasm to provide for her family returned.  SOS continues to support and work with Rula.  The aim is to give her the courses she needs to find a job and provide sustainable income so that she can take care of her children and give them a better life.
SOS Children's Villages gave Rula and her family the chance for a life full of possibility. Unfortunately this is not the only story of families facing hardships in the Palestinian Territories.  Many mothers now are the primary caregivers for their families and are in need of help to become economically independent and provide for their children.
SOS Children's Villages is proud to be able to help over 400 families through its Family Strengthening Program in Bethlehem.
Canadians looking to support the Family Strengthening Program in Bethlehem are encouraged to make a donation. SOS Children's Villages is also in need of child sponsors in Bethlehem and Rafah, please consider sponsoring a village for $25/month and help give Palestinian orphaned and abandoned children a loving and safe home.