Horseback-riding therapy in Paraguay is helping children with special needs
Image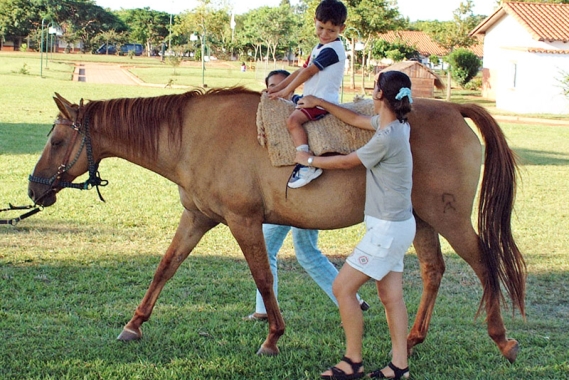 In SOS Children's Village Panambi in Paraguay, horse therapy is helping the development of children with special needs.
SOS Children's Village Panambí was built especially for mentally and physically challenged children. It is situated right next to SOS Children's Village San Igancio and SOS Medical Centre San Ignacio, which is run as mother-and-child clinic.
Since SOS Children's Village Panambí is situated next to SOS Children's Village San Ignacio and its clinic, the children not only have access to extensive medical care but can also play and mingle with healthy children.
On the village site, there is also an SOS Vocational Training Centre, where up to 35 girls are trained to become nurses.
Along with the usual medical care and therapy provided, all 40 boys and girls of all ages at SOS Village Panambi are given opportunity to ride Mafalda, the therapy horse.  This special horseback program is a form of therapeutic treatment designed to help children living with Down syndrome, Cerebral Palsy, Spinal Bifida, physical disabilities, autism and visual impairment.
Horseback riding strengthens young riders as they build a relationship with the animal. Through this bond, children improve their anxiety, along with multiple other skills, including:
Cognitive levels, memory and ability to stay focused
Self-esteem, self-confidence and self-control;
Gestural and oral communication skills as well as the vocalization of words;
Stimulation of muscles and joints; coordination, motor skills, reduction of abnormal movement patterns.
Canadian's wishing to support SOS Children's Villages are encouraged to sponsor a child, sponsor a village or to make a direct donation. Your support ensures that SOS Children's Villages can continue to provide a safe and loving home to orphan and abandoned children worldwide.