Hurricane Matthew Makes Landfall in Haiti
Image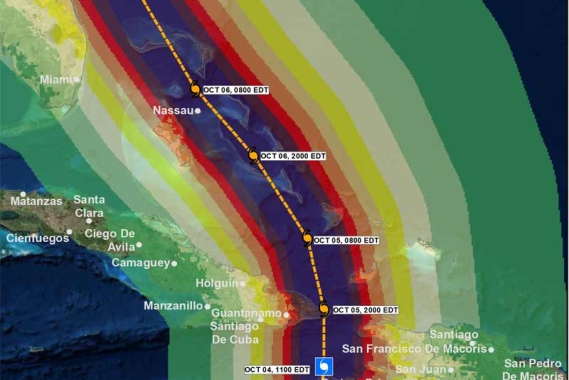 October 4, 2016 – Six years after the devastating 7.0 magnitude earthquake violently hit Port-au-Prince, Haiti braces for another blow as Hurricane Matthew makes its way over  the country's southern coast.
The category 4 hurricane - the fiercest storm in the Carribean since Felix in 2007 - is expected to leave life-threatening flash floods and mudslides in its wake.
According to the U.S. National Hurricane Center, the eye of the storm made landfall near Les Anglais on the western tip of Haiti at 7:00ET this morning, approximately 200 kilometres west of the SOS Children's Village in Les Cayes.
Preparations have been underway in Haiti to prepare for the worst.
As a safety precaution, government officials decided to close all schools on Monday, October 3rd and to have them remain closed until later in the week. The government has also asked for school facilities to be made available in case they will need to act as emergency shelter.
SOS Children's Villages has also prepared its schools to receive community members seeking refuge from the storm. SOS staff members have been working with communities to make them aware of the strength of the hurricane, and encourage families to prepare to evacuate their homes and seek safety in designated hurricane shelters.
A country still recovering
Haiti is particularly vulnerable due to environmental degradation, which has left the land stripped of trees and extremely prone to erosion.  As efforts to rebuild from the 2010 earthquake continue, tens of thousands of people are still living outdoors, defenseless against the powerful winds and flooding. With the continued flooding, brings the heightened concern of the potential  for new outbreaks of cholera to occur.
Our response
SOS Children's Villages will continue to track the storm and monitor the impacts to affected communities.  Our team in Haiti will provide basic medical supplies, drinking water and food supplies to the children and families living in the communities surrounding our Villages and facilities, and offer temporary shelter for children and families, as needed.  Learn more about how SOS is helping respond to Hurricane Matthew.
If you wish to support SOS Children's Villages to be prepared to assist in current and future emergencies, you can make a donation to the SOS MAYDAY Emergency Relief Fund.