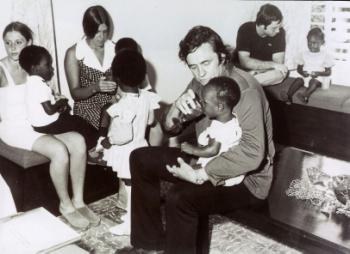 Johnny Cash was one of the greatest country musicians of all time. He was a legend. But the son of a poor farmer didn't only touch the hearts of country music fans with his distinctive bass-baritone voice and his critical and unconventional texts. As well as being successful in music, he devoted his time to children in need. He was a great friend and supporter of SOS Children's Villages.
Cash learnt about the concept of SOS Children's Villages in the mid fifties, when he was stationed as a young soldier in bavaria in Landsberg am Lech. The first SOS Children's Village in Germany opened at the same time south of Munich in Diessen am Ammersee.
The country music star subsequently actively supported the construction of an SOS Children's Village. It was built on a plot of land in Barrett Town in Jamaica near to the area where the Cash family had a holiday home. Cash and his wife, the country singer June Carter, also financed the first family house of the new SOS Children's Village.
In addition, the musician dedicated the song "The Ballad of Annie Palmer" to the children and royalties from it went to the SOS Children's Village. Cash said: "It will mean that more abandoned children can have hope, find love and have a future." The country music star remained in contact with the German SOS Children's Villages. He welcomed children and staff from SOS Children's Village to his concerts in Munich. (He had personally followed the progress of the village from the start.) SOS children were invited to his last tour of Germany at the end of the nineties.
When Johnny Cash died on 12 September 2003, just four months after the death of his wife June Carter, his family asked people not to take flowers to his grave. Instead, they were asked to make donations to SOS Children's Villages USA. Many of his friends and fans followed the family's wishes. Johnny Cash's family still supports SOS Children's Villages in its activities.