Lack of clean water takes toll on Ebola-stricken Liberia
Tuesday, February 24, 2015
Image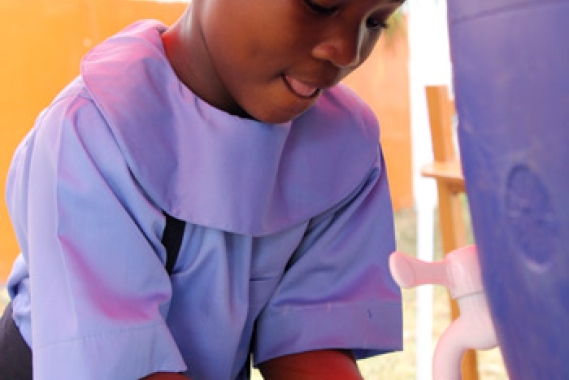 As schools in Liberia start reopening after nearly six months of closure due to the Ebola epidemic, one challenge still looms: access to clean water.
In response, SOS Children's Villages is constructing a hand pump for Managbokai Elementary School. The school offers formal education to 200 children from marginalized families in a rural region of the country.
"This is the only school for children in Bomi County," said the vice principal of the school, Kona Goll. "We appreciate the contribution of SOS Children's Villages Liberia. The installation of a hand pump at the school is vital for the health and academic achievement of everyone here."
Even before the Ebola crisis, access to safe water was a challenge. Managbokai Elementary School only had four teachers and the problem of water added to this difficulty and the progress of the students. Teachers would have to leave their classrooms and walk with student for 10 minutes to get drinking water. Students were also becoming ill from drinking the unsafe creek water that runs through the village. Fortunately, access to clean water will soon improve for children living in Bomi County, Liberia.
"SOS Children's Villages Liberia sees the construction of a well or hand pump as a first priority," said George Kordahi, the National Director of SOS Children's Villages Liberia. "The health of these children is paramount, especially during this crisis period in the country."
Construction started on February 4, 2015. SOS Children's Villages Liberia has worked with several schools and thousands of families facing challenges through the Family Strengthening Program and community outreach activities.
Facts and Figures
1 million people in Liberia don't have access to safe water
Over 1,000 children die every year from diarrhea caused by unsafe water.
Over 60% of the population lives below the poverty line. Without safe water, Liberians will be unable to take their first essential step out of poverty.

Canadian's wishing to support SOS Children's Villages are encouraged to sponsor a child, sponsor a village or to make a direct donation. Your support ensures that SOS Children's Villages can continue to provide a safe and loving home to orphan and abandoned children worldwide.