Medical expertise makes all the difference for young mothers - #putchildrenfirst
Wednesday, October 22, 2014
Image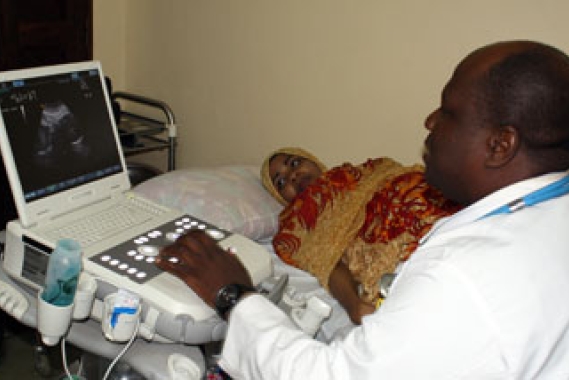 Saada Maulid Amour lies quietly on the exam table, at SOS Medical Centre of Zanzibar in Tanzania, listening to her baby's heartbeat. She is seven months pregnant with her third child and Dr. Abdullah Hassan Maneno, the head of the medical centre, is carrying out an ultrasound test - a first for the thirty-year-old mother. Saada never had a scan done for her last two pregnancies because the service has largely been unavailable in most health centres in the country. The ultrasound Dr. Maneno is carrying out will help detect any birth defects or abnormalities and reduce the risk of unnecessary loss of life significantly, during and after childbirth.
Asked how she felt before the scan, Saada says, "I am pleased to have this test because I have lived in fear throughout my other pregnancies. Not knowing my baby's wellbeing was agonizing. Occasionally negative thoughts would flood my mind and I would wonder if the child was alive or dead; it is terrible not to know." As she walked into the ultrasound room, she was apprehensive, but Dr. Maneno smiled reassuringly and invited her to lay on the exam table, waiting until she was relaxed to begin the procedure.
Few pregnant women in Zanzibar take a prenatal ultrasound, due to lack of awareness and poor healthcare services - a gap, according to the government, that has contributed to maternal deaths during childbirth and in the postpartum period. UNICEF reports that in 2008-2012, the maternal mortality rate in Tanzania was 460 deaths per 100,000 live births, a rate that the government is trying to lower in order to meet the Millenium Development Goals of reducing maternal and child deaths.
Asked what it means to be able to have a scanning at SOS Medical Centre, Saada replies, "It means a lot to me; it keeps the pressure off me to know that I have consulted Dr. Maneno and I have sufficient information about my pregnancy. Before, this service was unavailable and doctors would ask you to present scan results on a need-by-need basis without really enquiring where it was done or questioning its quality."
After the ultrasound, relief is evident on Saada's face. "I am very happy because Dr. Maneno has confirmed that my child is okay, the baby is in a good position for normal delivery. I am very happy to know that the baby is healthy before walking into the delivery room."
For more of our Put Children First campaign, please follow our Twitter and Facebook. Keep others in the loop by using the hashtag #putchildrenfirst!

Canadian's wishing to support SOS Children's Villages are encouraged to sponsor a child, sponsor a village or to make a direct donation. Your support ensures that SOS Children's Villages can continue to provide a safe and loving home to orphan and abandoned children worldwide.