A Reality We Can Only Imagine
Image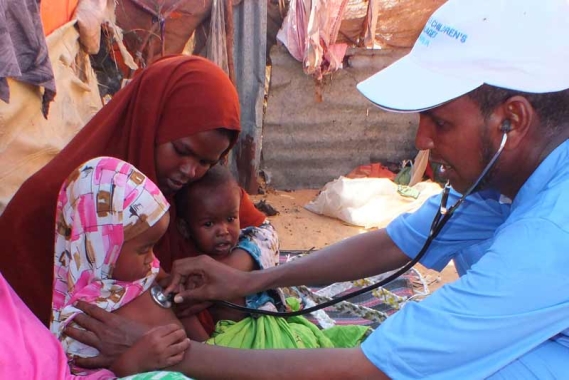 For many of us the end of June is the unofficial start to summer. Weekends are likely filled with barbeques and camping trips.
Now imagine that in the suffocating heat with no air conditioning you only have a 500mL water bottle to ration with your family of five. There's no food in your pantry and you haven't eaten in days.
You walk over to your neighbours house to borrow a few staples for a meal, but they don't have anything either, and are packing up to leave town, maybe forever. A careful walk through dark streets leads you to the store which you find closed, and through the dirty windows you can see the shelves bare.
An eerie silence tells you that being out of your home isn't safe at this hour, and so you walk back toward your home, tired, stomach rumbling and head aching at the thought of telling your kids that there's nothing for dinner tonight—again. No snack, no bedtime glass of milk. They cry in their beds, bellies empty, and you try to soothe them to sleep, all while thinking about how and when you'll be able to feed them next, if at all. Now imagine that this was happening to 20 million Canadians— almost two thirds of the entire country.
This is a reality currently being faced in countries like Somalia, Nigeria, and Niger, where a shortage of food has been exacerbated by drought and ongoing regional conflicts.
Starvation has pushed these communities past the ability to function effectively and has put large portions of these populations into survival mode. Malnutrition is detrimental. For children especially, it has a lasting impact on their physical and intellectual development, putting their whole future at risk.
"We stand at a critical point in history. Already at the beginning of the year we are facing the largest humanitarian crisis since the creation of the UN," UN Emergency Relief Coordinator Stephen O'Brien told the UN Security Council in March.
Malnutrition, disease and death are creeping swiftly into homes and neighbourhoods, leaving inhabitants devastated and vulnerable. Children are exposed and defenseless. Many are orphaned or abandoned and left to fend for themselves in an unforgiving and treacherous situation.
With some government powers threatening to slash humanitarian aid funding, Canada has chosen to take action. Through the Famine Relief Fund, every donation made to named partners like SOS Children's Villages will be matched by the Government of Canada until June 30, 2017.
In Niger, SOS Children's Villages is not only providing life-saving nutrition to the children and families affected by the famine; we are providing health care, education, and safe spaces for children who would otherwise be left alone and at risk of abuse.